Are you a North Dakota landlord that wants to put the best tenants in your rental properties? You aren't alone, but many landlord like you keep getting burned by bad tenants. The best way to minimize the risk of bad tenants is to follow the proper tenant screening procedures. North Dakota tenant screening laws and regulations are the best way for you to find the right occupants.
This article is designed to take you through the North Dakota tenant screening process. We'll discuss:
North Dakota tenant screening laws
Free landlord resources
Screening process overview
Selecting a tenant screening service
North Dakota Tenant Screening Laws
The laws in North Dakota for the tenant screening process is a little different than other states across the country.
Here are just a few examples of the regulations that landlords must follow:
North Dakota law puts no limit on how much landlords can charge for application fees
However, landlords can only charge one months' rent for security deposits.
Application fees and security deposits are separate transactions.
The application fee is non-refundable, whereas a security deposit is refundable based on tenant behavior.
Landlords throughout the state would be doing themselves a favor by getting more familiar with North Dakota laws on tenant screening here.
Avoid This Common Screening Mistake
You may know that running a background check on an applicant is a great way to figure out if they will be a good tenant or not. If you don't already do this, we recommend you start with your next vacancy. But remember, landlords can only run background checks on applicants where they've gotten a signed consent form. 
You should check to see that the rental application form you are using has an area that asks for signed consent from the applicant. It's the number one thing you need to run a background check.
Here's how we do it at RentPrep.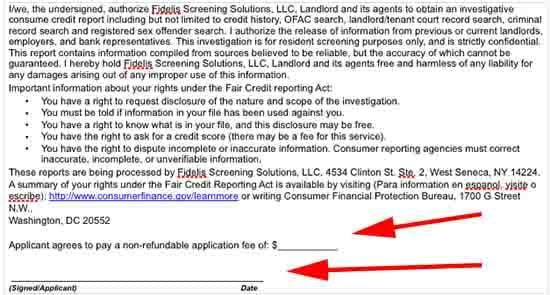 As the first red arrow indicates, it's a good idea to inform your applicants that your application fee is not refundable. This will clear up any confusion that may take place later.
You can see that the second red arrow highlights a signature line where the applicants sign to give you consent to run a background check.
Resources for Tenant Screening in North Dakota:
These free forms and guides are valuable resources that can assist you in finding the best possible tenant for your rental property.
*Did you know that a no blank space policy is a great way to sort out applications. Essentially, it means that if you get an application with blanks instead of answers, you can discard it. Often, when applicants have something to hide they simply don't answer the question to prevent the landlord from digging too deeply. The no blank space policy lets you only keep applications that are complete.
North Dakota Tenant Screening Process
North Dakota landlords often create a list of screening criteria. If you haven't done this for each of your rental properties, you should start right away. The tenant screening criteria is a simple list that helps you sort through applications. It gives you the assistance you need to focus on the type of tenant you really want in your rentals.
Here's an example of a tenant screening list:
No smoking
No pets
Rent to income ration approximately 3:1
Credit score above 600
No violent crimes
Absolutely no previous evictions
Making a screening criteria list can help you focus on what you really want. Of course, make sure you are not discriminating against applicants, as outlined by hud.gov. It's illegal to discriminate against certain protected classes.
It's a good idea to make sure you are consistent when you screen applicants. Avoid making gut reactions or giving exceptions to your screening list. That's the best way to land a bad tenant and overlook the good ones.
Remember that in North Dakota, landlords need to do the following:
North Dakota landlord can charge whatever they want for an application fee.
Application fees are not refundable.
Landlords can discard applications that don't meet their personal requirements, as long as they are not discriminating against protected classes.
This guide provides lots of help for landlords in North Dakota.
RentPrep's Tenant Screening Tutorial
One bad tenant can ruin a rental portfolio.
A tenant eviction costs on average $3,500.
You want to make sure you find the right tenant for your property.
Read out tenant screening tutorial and learn how to find and place the right tenant every time.
[activecampaign form=140]
Picking the Best Tenant Screening Service
Once you've narrowed it down to a few applications, you need to find a company to run a background check. Picking the best tenant screening service is easy when you look at what they provide:
Eviction history and details
Past bankruptcies
Any judgments and liens
Prior addresses
You'll be making a mistake if you rent to a tenant before evaluating their background and history. Don't trust your instincts, instead you should trust the results that you get from a tenant screening service.
We invite you to check out RentPrep, where we've worked with over 21,000 landlords over the past 10 years.
Check out our tenant screening packages to get a better idea about all the services we offer.
Our FCRA-certified screeners will deliver the best tenant screening report available, every time.