North Carolina tenant screening is a big part of ensuring landlords get the best tenants. However, landlords that don't learn the unique laws in effect in North Carolina can miss out on a lot.
Our post covers the following topics so you and other North Carolina landlords can identify the best tenants for your rental properties.
North Carolina tenant screening laws
Free resources for North Carolina landlords
Detailed overview of the North Carolina screening process
Choosing the right tenant screening service
We also cover some quick tips and advice in this video specific to North Carolina:

North Carolina Tenant Screening Laws
Did you know that North Carolina tenant screening laws may be different when compared to other states?
North Carolina landlord should know the following:
There is no limit to how much a landlord can charge for an application fee
The application fee should cover the cost of tenant screening
An application fee in North Carolina is separate from any security deposits
Security deposits can equal up to two month's rent
Remember in North Carolina, an application fee is non-refundable while security deposits are refundable minus damage costs. However, a landlord can choose to refund an application fee if they want.
This is the comprehensive guide for North Carolina tenant screening.
Don't Make This Screening Mistake
Every landlord should run a background check on an applicant, but there's one important thing you need–a signed consent form.
The most complete rental application forms should have a place that asks for signed consent from the applicant in order to run a background check. Without it, you will be out of luck.
We even include it on our free forms here at RentPrep.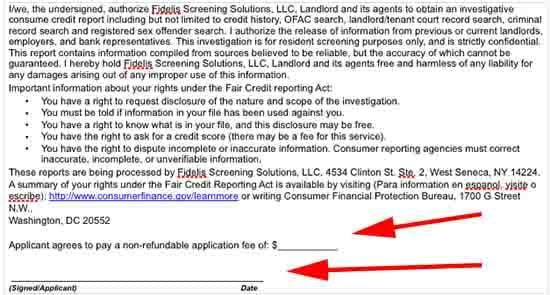 See how the first red arrow shows that this application fee is non-refundable. Tenants will always ask about which parts of their money is refundable.
The second red arrow indicates the place to give consent to run a background check. You'll need it before you can learn much about the applicant.
Resources for Tenant Screening in North Carolina:
Here are some free forms and resources to help you find the best possible tenant for your rental.
*Many North Carolina landlords use a "no blank space" screening tactic. This means that you don't accept any applications with blank spaces. All too often, applicants with something to hide will leave blank spaces so you can avoid these tricksters from the start.
North Carolina Tenant Screening Process
Always create a comprehensive list of screening criteria for each of your rental properties. As a precaution, keep a written list in your files.
Common criteria include:
No smoking
Certain credit score
No pets
Income exceeds the monthly rent by three times
No violent crime history
Never previous evictions
Exercise caution, because it's all too easy for your criteria, marketing, or screening process to discriminate against protected classes. Learn more about discrimination on hud.gov.
If you find yourself in a lawsuit from a denied applicant or a government agency, you can pull out a copy of your screening criteria to show your rental standards.
As long as you are consistent when screening applicants, you will be able to avoid any serious legal action. It's when you start to exceptions and changes to this criteria, reacting to applicants on a case-by-case scenario. It looks like discrimination when this happens, even if you don't intend it to.
As you are dealing with getting applications and checking out applicants, there are a few things to keep in mind for North Carolina.
Security deposits must be kept in a licensed bank account
Landlords don't have to include the application fee with that
Security deposits are refunded within 30 days of the last day on the lease agreement
Again, it's a great idea to refresh your memory when you read this North Carolina guide.
Free Tenant Screening Guide
This is a taste of what the tenant screening process is like.
If you want to understand the entire process we suggest reading our free tenant screening guide.
It will walk you through the entire process from start to finish.
Don't make a costly mistake that could be easily avoided!
[activecampaign form=140]
Picking a Screening Service
If you have the tenant applicants in mind that you want to consider further, the next step is to run a background check.
A good background check needs the following:
Prior evictions
Bankruptcy searches
Judgments or liens
Prior address history
Avoid a big headache and make sure you do a background check on every applicant that meets your personal screening criteria.
Here at RentPrep, you can trust us to deliver results. After all, we've worked with over 21,000 landlords over the past 10 years.
Check out our tenant screening packages to see the services we offer.
Our FCRA certified screeners will put your mind at ease by providing the best tenant screening report available.