The laws that regulate New Hampshire tenant screening are one-of-a-kind for the state, because other states may not include some of the same features. Landlords in New Hampshire that follow a thorough tenant screening process are  reducing the risk of getting a bad tenant.
This post focuses on New Hampshire tenant screening in a comprehensive way so landlords know what's involved.
These are just a few things we address:
New Hampshire tenant screening laws
Free resources
Screening process overview
Tenant screening service
New Hampshire Tenant Screening Laws
Tenant screening laws in New Hampshire are important for protecting both landlords and tenants. There are several conditions that landlords should learn about in regards to tenant screening.
Here are just a few points to know:
New Hampshire laws don't set a limit on what landlords can charge for application fees.
New Hampshire landlords may charge a tenant the equivalent of one month's rent for the security deposit or $100, whichever is greater.
Application fees and security deposits are separate payments, not lumped together.
The application fee is non-refundable.
Learn more about New Hampshire tenant screening in this landlord/tenant guide here.
Common Screening Mistake
New Hampshire landlords can run a background check on any applicant but sometimes they make a common screening mistake that stops the process. However, unless a tenant has given signed consent, landlords cannot run a background check.
If the rental application doesn't have a space for a signature, landlords do not have permission to run a background check. Of course, landlords should check their application forms to see if there is a signature space. If not, it should be added before the next vacancy.
For example, here's the RentPrep form: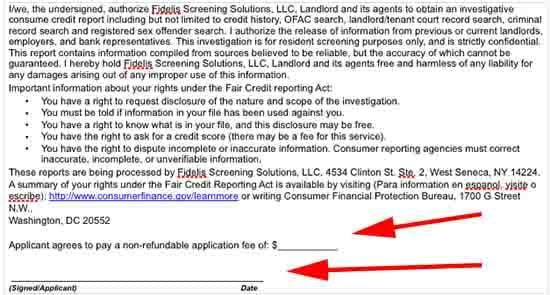 Note that the top red arrow highlights information that the fee is non-refundable.
See how the lower red arrow points to the signature space, which gives landlords consent to run a background check.
Resources for Tenant Screening in New Hampshire
These free forms and resources will help you find the best possible tenant for your rental.
*Consider implementing the "No Blank Space" policy with rental applications. Landlords disregard any applications with blank spaces for answers, eliminating anyone background details to hide.
New Hampshire Tenant Screening Criteria
Creating a tenant screening list is a fine way for landlords in New Hampshire to sort applications. By creating a list of standards, they can choose the applicants that best meet their ideal tenant qualifications. Therefore, landlords should create one for every rental property.
Tenant screening criteria lists might look like this:
No smoking
One pet under 15 lbs allowed
Income to rent ratio must be 3:1
No criminal history
Absolutely no prior evictions
Credit score above 620
Landlords should keep the list realistic and fairly broad so as not to eliminate everyone who applied. Of course, landlords should never discriminate against protected classes in their marketing material and screening processes. Learn more about housing discrimination and protected classes at the hud.gov website.
New Hampshire landlords should always apply their screening criteria consistently to each and every application. When they start to make exceptions or go on a gut feeling, that's when problems happen and discrimination can occur. Therefore, by fairly applying the screening criteria, sorting applications can be very easy.
New Hampshire tenant screening laws reinforce proper procedures.
Application fees are not limited in the state
They are not refundable
Landlords can't discriminate when sorting applications
Check out the New Hampshire tenant guide for more info.
[activecampaign form=140]
RentPrep's Tenant Screening Guide
When screening tenants there are specifics you need to follow for your State and local city.
However, there is a process you can follow to find the right tenant each and every time.
Read our tenant screening manual to learn how to identify and place the very best tenant.
Locating the Best Tenant Screening Service
After the applications have been sorted, landlords need to find the right screening service. The best tenant screening services charge a modest fee and provide a thorough report. The information helps landlords make a choice on the best applicant.
Therefore, the best tenant screening service reports should include:
Previous addresses
Past evictions
Any bankruptcies
All judgments/liens
Landlords should never choose a tenant without looking at their background report. Even the nicest applicants can be hiding something that shows they won't be good tenants. Landlords in New Hampshire should rely on facts to make a decision.
Here at RentPrep, we've worked with over 21,000 landlords over the past 10 years. Check out our tenant screening packages to see the services we offer.
Our FCRA certified screeners will put your mind at ease by providing the best tenant screening report available.
[activecampaign form=122]