Nevada tenant screening takes landlords from struggling to find tenants to having their pick of the best applicants around. Proper tenant screening is regulated by state laws so that both applicants and landlords are held to high standards. From Las Vegas and Reno to Henderson and Carson City,  Nevada tenant screening is a key part of real estate success.
Nevada landlords need to learn about:
State tenant screening laws
the screening process overview
Free resources
Tenant screening services
Nevada Tenant Screening Laws
There's no reason why Nevada landlords shouldn't understand everything there is to know about tenant screening laws. Of course, we are ready to help anyone educate themselves, and there lots of resources listed here to start with.
Nevada tenant screening laws include:
There is no maximum limit that landlords can charge for application fees
Nevada landlords cannot exceed 3 months rent for a security deposit
The application fees in the state are not refundable
Fees may be collected at the time when applicants provide a completed application to the landlord
All this and more is just the first step in getting involved with Nevada tenant screening.
A Common Screening Mistake
Nevada landlords have every right to run a background check on applicants as long as they have one vital piece of information–a signature. In Nevada, landlords can't have a background check done unless the applicant has provided a signed consent form.
Landlords in Nevada need to look at the forms they are currently using. If they don't have a signature line, they should add one as soon as possible.
As an example, here is the RentPrep form: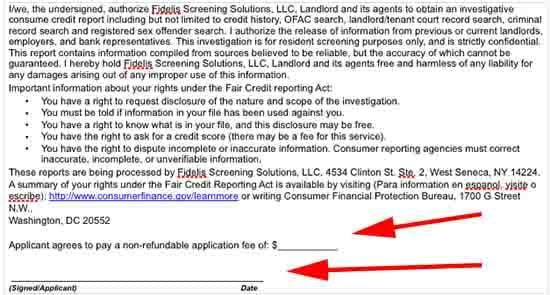 On this form, the bottom arrow shows applicants where to sign to give consent for a background check.
Additionally, the top arrow indicates the non-refundable application fee so there is no confusion down the road.
Resources for Tenant Screening in Nevada
RentPrep has gathered a helpful list of links for you to use in your real estate business. There's no better way to find top tenants than to use the information here.
*Smart landlords implement the no blank space policy, where any application that is not completely filled out is discarded. However, it's an easy way to eliminate those applicants that are trying to hide or leave out negative parts about their history.
Nevada Tenant Screening Process
Nevada landlords are on the right track when they create their own tenant screening criteria lists. As they think about what makes an ideal tenant, they come up with a list. As they compare applications to the list, landlords can sort out which applications go through to the next step.
A typical tenant screening list includes:
Any pet restrictions
A credit score minimum
Smoking preferences
Income to rent ratio
Violent criminal history
Past bankruptcies
Previous evictions
Landlords in Nevada and across the state should be very careful not to discriminate against protected classes. They can learn all about housing discrimination at hud.gov.
Being consistent with the tenant screening criteria list is the only way to stay out of trouble and avoid a discrimination claim. However, as soon as Nevada landlords start to make exceptions, they open themselves up to legal trouble. They'll be able to avoid discrimination lawsuits by consistently applying their list to all applications.
Landlords will always do the right thing when following Nevada tenant screening laws like:
No application fee limits
Non-refundable application fees
Making tenant screening lists consistent during reviewing applications
Learn more about Nevada screening criteria here.
A Thorough Tenant Screening Starts Here
This post serves as a introduction to tenant screening.
If you'd like to learn the system used by seasoned landlords, we've created a tenant screening outline for you to follow.
Just click the link above to learn more.
[activecampaign form=140]
How to Find the Best Screening Service
The top applications are now ready for a background check, and its hard to decide where to send them. However, for the best screening service, landlords should ensure they are using a reputable company with plenty of experience.
The best screening services provide info on:
Prior evictions
Bankruptcies
Judgments/liens
Address history
There's no substitute for a good background check on an applicant. Landlords in Nevada should always get one before offering someone a lease agreement.
At RentPrep, we have experience with over 21,000 landlords over the past 10 years. Check out our tenant screening packages to see the services we offer.
Our FCRA certified screeners will put your mind at ease by providing the best tenant screening report available.