Nebraska tenant screening is one of the best ways for landlords in the state to identify the best applicants. Of course, Nebraska laws are a little different than others when it comes to landlord tenant regulations.
Our article will give you all the tips, suggestions and free forms you will need to properly screen tenants in Nebraska. Landlords that want to make the most profit from their business and keep the best tenants in their rentals should participate in tenant screening.
Nebraska Tenant Screening Laws
It's no secret that Nebraska laws tend to differ from other states. These are just a few things that landlords need to know:
The state places no limits on how much landlords can charge for application fees
Landlords in Nebraska can only charge the equivalent of one month's rent for the security deposit
Application fees are different than security deposits
Security deposits are refundable, but application fees are not refundable in Nebraska
Of course, landlords should follow the law when going through the tenant screening process. For more details on laws involved with Nebraska tenant screening, click here.
Don't Make This Screening Mistake
In Nebraska, landlords can only run a background check on an applicant if they have signed consent from them. If a rental application does not include a signature line, it doesn't grant permission to the landlord. Landlords should look at their paperwork for applications right now and make changes if needed to get consent.
This is what we use here at RentPrep: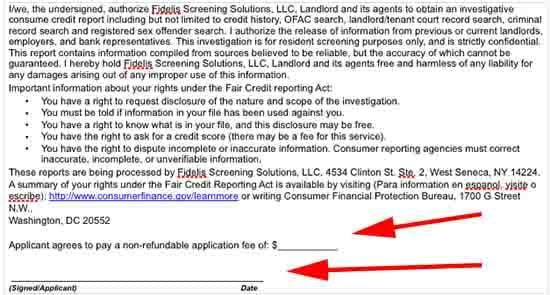 See how the first red arrow shows the application fee is non-refundable? Many applicants aren't clear on that, so pointing it out clears up misunderstandings. See how the second red arrow indicates where the applicant should sign? That gives consent to landlords to run a background check.
Resources for Tenant Screening in Nebraska
Here are some free forms and resources to help you find the best possible tenant for your rental.
*An excellent screening tactic is to use a "No Blank Space" policy for all rental applications. This means that applicants with something to hide often leave blank spaces to questions they don't want landlords to look closely at. If landlords see a blank space for an answer, they don't accept rental application.
Nebraska Tenant Screening Process
Landlords should create a screening criteria list for each of rental property and write them down for future reference. Their criteria usually include things such as the following:
No smoking
Pet limits s
3:1 income to rent ratio
No violent crimes
Absolutely no previous evictions
At least 6 months at current job or at prior job with a move
Landlords should take great care that their criteria, marketing, or screening process ever discriminates against any of the protected classes. Learn more about this at hud.gov.
It's important for landlords in Nebraska to always be consistent in screening applicants. If they are always making exceptions or changing their mind on a case-by-case basis, it could be seen as discrimination and therefore start up legal trouble.
Any landlord that wants to get up to speed on Nebraska landlord tenant law should read this for more details.
[activecampaign form=140]
Find Your Perfect Renter
Finding the right tenant can be a headache if you don't know what you're doing.
That is why we've created a tenant screening guide for you to find the perfect renter.
Check out our free tenant screening guide and learn how to find the perfect renter.
Picking the Best Screening Service
When landlords have narrowed the choice down to the final few applicants, it's time to run a background check on each one. Doing a thorough background check includes the following items:
Eviction history
Prior bankruptcies
Judgements or liens
Prior address history
Landlords should trust a tenant screening company instead of a gut feeling for the best results.
Here at RentPrep, we've worked with over 21,000 landlords over the past 10 years. Check out our tenant screening packages to see the services we offer. Our FCRA certified screeners will put your mind at ease by providing the best tenant screening report available.