While many things about Missouri tenant screening are the same as other states, some aspects are unique. Landlords who don't take the time to learn can doom themselves to endless rounds of bad tenants. Today's article shares all the details about Missouri tenant screening, to help landlords get the highest quality applicants and therefore find the best tenants.
If you are a landlord that wants to learn more about Missouri tenant screening, definitely spend some time with us to learn more about topics like:
Missouri tenant screening laws
Free screening resources
A look at the screening process
Choosing the best tenant screening service
Missouri Tenant Screening Laws
With the regulations and laws on Missouri tenant screening, landlords have a responsibility to learn all they can about it. After all, the best screening reveals the best applicants, which in turn become high quality tenants.
Missouri tenant screening laws  include facts like this:
Landlords have no limits on what they can charge in application fees
A Missouri application fee will be non-refundable
Missouri security deposits cannot exceed two months' rent
Security deposits are refundable after the tenant has completed the lease agreement
Missouri landlords should know that the application fee is separate from the security deposit and collected at an earlier time. Additionally, if landlords want to provide a refund of the application fee for some reason, they are welcome to do that.
For more on Missouri tenant screening, check out this helpful guide.
Avoid This Common Screening Mistake
The first step in doing any kind of background check is getting consent from the applicant. Without a signed consent form, you won't be able to check out the applicant's employment, rental and criminal history. 
If the rental application form you are using doesn't have a specific place that asks for a signature of consent, make changes immediately.
For example, here is one of our forms used by RentPrep.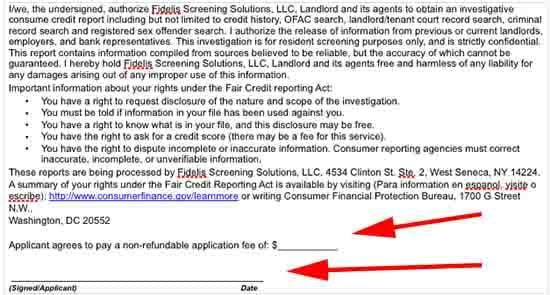 The top arrow shows that the application fee is non-refundable. The bottom arrow shows that the applicant needs to provide a signature of consent.
In conclusion, this is just one of the many forms out there for free to help Missouri landlords out.
Resources for Tenant Screening in Missouri
Especially relevant to landlord success are these free forms and informative posts, which are some of the best resources online that can help you find a great tenant for your rental property.
*To avoid applicants with something to hide, instigate a no blank space policy. This means that if an application comes to you with a blank space as an answer, you don't accept it. People with shady backgrounds often leave blank spaces hoping to throw off background investigators.
Missouri Tenant Screening Process
Do you have a list of screening criteria for each one of your rental properties? Do you know what screening criteria even is? Creating a written list of important components you want in a tenant is the first step.
A Missouri tenant screening criteria list could look like this:
No prior evictions
Absolutely no arrests or violent crimes
Pets are not allowed
Income must be two times the monthly rent, at least
No smokers
As long as the screening criteria list stays away from discriminating protected classes, you can use it to sort through applications to find the best for your property. Remember there are certain protected classes that are defined by HUD and the Fair Housing Act. As such, screening criteria should never include discriminating features. Learn more about this at hud.gov.
Avoid a discrimination lawsuit by using the same screening criteria for every applicant. In the event a denied applicant starts to cause trouble for you, you'll have evidence of consistent practices. Furthermore, you cannot make exceptions to the list of screening criteria no matter what because doing so looks a lot like discrimination.
The Missouri tenant screening process will help pave the way for landlords to stay out of trouble and find the finest applicants in town. Additionally, remember these important rules:
The state doesn't limit the amount a landlord can collect in application fees or security deposits.
Application fees should be paid when turning in an application. Security deposits are paid when signing a lease agreement.
Application fees are not refundable, but security deposits are if the tenant complies with the lease.
Even though there is no limit to the application fee amount, landlords should charge everyone the same amount to avoid the appearance of discrimination.
In conclusion, you should definitely read this guide for details on Missouri landlord-tenant law.
[activecampaign form=140]
Find Your Perfect Renter
Finding the right tenant can be a headache if you don't know what you're doing.
That is why we've created a tenant screening guide for you to find the perfect renter.
Check out our free tenant screening guide and learn how to find the perfect renter.
Locating a Tenant Screening Service
Now that you have two or three applications that interest you, it's time to run a background check. While finding a good tenant screening service may seem easy, it's important to put your focus on the most essential information you need.
Background checks should include the following:
Comprehensive eviction history
Total bankruptcy history
All judgments and liens
Every previous address
Without a background check to provide insight into an applicant's past, there's no way to tell whether or not they will be a good tenant. Furthermore, never trust your gut when it comes to picking a tenant. Instead, rely on the expertise from a tenant screening service.
Due to our impressive team, RentPrep can provide a detailed tenant screening report every time. Because we've worked with more than 21,000 landlords over the past 10 years, we know what we're doing.
Check out our tenant screening packages to see the services we offer.
Our FCRA certified screeners are trained to give you the best tenant screening reports available.