Wondering how Minnesota tenant screening is unique? Well, it's no surprise that the state often does things in a way that differs from the the other 49 states. From the big cities like Minneapolis, St. Paul and Duluth to smaller communities, landlords need to educate themselves on how to best run their business.
This helpful post covers some important topics so that Minnesota landlords like you can find the most qualified tenants to live in your rental properties.
We'll discuss:
Minnesota tenant screening laws
Steps of the screening process
Share free resources
Find a tenant screening service
Minnesota Tenant Screening Laws
So what do Minnesota tenant screening laws say? Regulations and laws for the state are designed to protect both landlords and tenants.
Here's some interesting information about Minnesota:
Minnesota law sets a limit on how much of an application fees that landlords can collect and it should be no more than what the screening service's fee is.
Before receiving the application fee, landlords must provide the applicant with the screening service's contact information.
If the applicant has paid anything more than what the service costs, the landlord has to return any balance from the fee.
Remember that application fees are different than security deposits, and they are not refundable, where security deposits are.
If you want even further details on Minnesota landlord/tenant laws, read about it here.
Are You Making This Screening Mistake?
The laws allow landlords like you to run a background check on any applicant, but only if you have a signed consent form from them.
Depending on the rental application form, some will include a place that requests the signed consent from the applicant granting permission to run a background check.
Check out the language we use on our forms at RentPrep.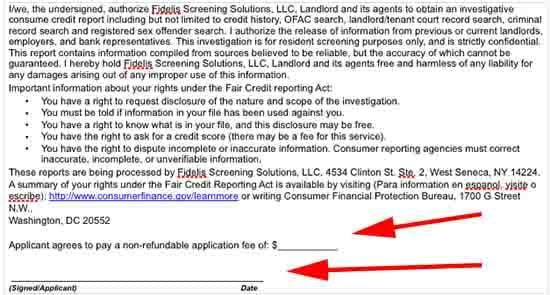 Note how the top red arrow clarifies that the application fee is non-refundable. Many applicants believe they will get it back if they are not selected, so this informs them of the truth.
Note how the bottom red arrow indicates where the applicant must sign and give consent to run a background check.
Resources for Tenant Screening in Minnesota
Everyone likes free things, and we've got a lot of links to helpful forms and free resources. Using these will definitely assist you in finding the best possible tenant.
*Have you tried one of the best screening tactics out there–the "No Blank Space" policy? Simply refuse to accept rental applications with any blank spaces for answers. When applicants don't want a landlord looking into a certain part of their past, they often leave it blank. This way, you'll screen out several questionable applicants at the beginning of the process.
Minnesota Tenant Screening Process
Minnesota landlords like you should definitely follow your own screening criteria, but many people don't even know what that is. Its a list of qualities you use to sort applications. The screening criteria list for each of your rental properties helps you stay consistent and fair.
Screening criteria may include your preferences for the following:
Smoking or not
Pets or not, or else with what restrictions
Income to rent ratio
Credit score threshold
Criminal history
Eviction history
Of course this criteria list should never include factors that discriminate against protected classes as defined by hud.gov.
Once your screening criteria is written down, you can apply it fairly to every application. This goes a long way in protecting your business from a discrimination lawsuit from a denied applicant.
When you are consistent in screening applicants, the best will rise to the top of the pile. Never make exceptions or adjust the criteria for a case-by-case scenario. Actually, this could be viewed as discrimination and might get you into legal trouble.
Remember the tenant screening process is different in each state, and here are a few more things to know about Minnesota tenant screening:
According to Minnesota law, landlords can't collect an application fee amount that exceeds the cost of the service.
Landlords must inform the applicants whether or not their application was approved or denied within 14 days.
If the landlord rejects an application, the law requires them to include the reasons for the denial.
All this and more is why it's important for landlords to be consistent and clear in the application and screening process. For more insights specific to Minnesota, check out this helpful guide.
Tenant Screening 101
At RentPrep, we believe tenant screening is more than running a background check.
That is why we've put together a comprehensive tenant screening guide.
Learn the ropes of tenant screening and you'll avoid costly mistakes that plague rookie landlords.
[activecampaign form=140]
Use the Best Screening Service
After you've sorted through the applicants, it's time to find a screening service to run a background check.
Make sure the screening service searches for the following factors:
Eviction history
Bankruptcy
Judgements or liens
Past address history
Never rent to a tenant without running a background check. While you might get lucky from time to time, chances are you are just asking for trouble.
Here at RentPrep we've worked with over 21,000 landlords over the past 10 years. Check out our tenant screening packages to see the services we offer.
Our FCRA certified screeners will put your mind at ease by providing the best tenant screening report available.