Are you a landlord in the Bay State who doesn't know much about Massachusetts tenant screening? If you know all the ins and outs of tenant screening, you will manage your real estate business so much better.
Massachusetts tenant screening laws and regulations are somewhat different than other states, so it pays to know what's going on.
We're here to help you sort through all the different topics around tenant screening so that you can rent to the best applicants out there. Here are just a few areas you need to know about:
All about Massachusetts tenant screening laws
Where to find free resourcs for landlords
The complete screening process
Locating the best tenant screening services
Massachusetts Tenant Screening Laws
Did you know that each state's laws on tenant screening are just a little different from each other? As a Massachusetts landlord, it's a good idea to take the time to learn about your state specifically.
Landlords must be compliant with tenant screening laws so they stay out of legal trouble and also to locate the best applicants out there.
For example, you should know this about Massachusetts tenant screening laws:
As of August 2014 landlords may NOT collect application fees from applicants
You must keep security deposit funds in a separate interest bearing account.
Landlords can learn more about Massachusetts tenant screening by clicking here.
Don't Make These Common Screening Mistakes
When you are starting the process of finding the best applicants, it's not unusual to make one of the biggest mistakes in tenant screening–not getting a signed consent form that allows you to run a background check. Massachusetts tenant screening won't allow you to run a background check without such a form.
Check your rental applications right now to see whether or not there is a request for an applicant's signature. If not, get a new application form or amend the one you are using to include it. It's necessary to run a background check.
If you need help with the language on your application form, see what we do here at RentPrep.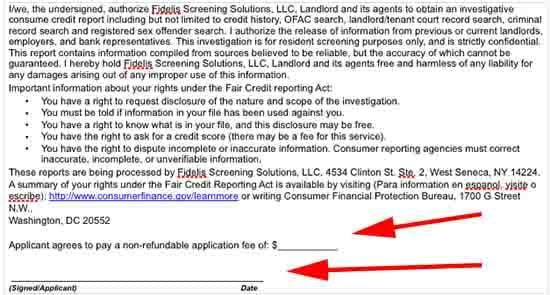 The lower red arrow indicates where the rental applicant needs to sign to give consent for you to run a background check.
Resources for Massachusetts Tenant Screening
Every landlord should have the tools they need to locate the finest tenants for their properties. You should never have to figure out Massachusetts tenant screening on your own, so RentPrep has provided these links to free forms and helpful resources.
*Reminder: Avoid applicants with something to hide by implementing a personal "no blank spaces" policy. This means that each part of the application must be filled in to help with a comprehensive background check. Often, applicants who don't want landlords asking about an area of their lives will leave it blank. You can eliminate a lot of hassle when you don't accept any blank spaces.
Massachusetts Tenant Screening Process
Each of your rental properties should have a screening criteria list attached to it. If you haven't written one out yet, start now. This list of qualities you must see in an approved applicant should help you screen out unwanted tenants.
Here's an example of some possible screening standards:
No pets
Smoking is allowed
No prior arrests
Income to rent ratio is at least two times the monthly rent
No past evictions
There are several factors and features that you are not allowed to include in your screening list. These protected classes go beyond race and ethnicity. For more details on what exactly a protected class is, please look at the guidelines on hud.gov.
Once you have a written list of the screening criteria, apply it to every application you get. Stay consistent so you don't get hit with a discrimination lawsuit.
Experts recommend staying very consistent when screening applicants. Never make exceptions or operate on a case by case basis because this can look like or actually be discrimination. You'll stay out of trouble when you follow your screening criteria list.
Massachusetts landlords like you need to learn all they can about the do's and don'ts of tenant screening laws.
Massachusetts landlords have no limits on screening fee charges
A security deposit cannot exceed one month's rent in Massachusetts
Security deposits are refundable
Massachusetts tenant screening details are available in this document.
[activecampaign form=140]
Find Your Perfect Renter
Finding the right tenant can be a headache if you don't know what you're doing.
That is why we've created a tenant screening guide for you to find the perfect renter.
Check out our free tenant screening guide and learn how to find the perfect renter.
How to Choose a Tenant Screening Service
If you have narrowed down the applicants according to your screening criteria and gotten signatures of consent, it's time to run a thorough background check to finish up the process.
Background checks must include:
Address history
Prior evictions
Bankruptcies
Any judgments or liens
Never sign a lease with any applicant that doesn't meet all your criteria and that doesn't pass a background check. You are only asking for trouble with a bad tenant if you do.
At RentPrep we know what we're talking about because we've worked with over 21,000 landlords over the past 10 years.
Check out our tenant screening packages to see the services we offer.
Our FCRA certified screeners are hard at work to deliver the best tenant screening service available.