Maine landlords never want to intentionally put bad tenants into their rental units. However, they sometimes ignore the best process for reducing the risk–Maine tenant screening. A careful step-by-step process can help them find qualified applicants.
Landlords from Portland and Bangor to Augusta and Bar Harbor are quickly learning everything they can about Maine tenant screening laws.
Details on Maine tenant screening laws
Overview of the screening process
Free landlord resources
Finding tenant screening services
Maine Tenant Screening Laws
It may come as a surprise that Maine tenant screening laws differ from neighboring states. Therefore, landlords can't assume that what applies in one state is the same in Maine.
Here are just a few facts about Maine tenant screening laws:
Maine law doesn't limit the amount of an application fee
Landlords in Maine do have a limit for what they can charge for a security deposit–up to two months' rent
Application fees in Maine are non-refundable
Security deposits and application fees are separate payments
Maine landlords really should take the time to learn the facts about their state's tenant screening laws.
This guide provides lots of info for Maine landlord/tenant laws.
Don't Make This Screening Mistake
Maine landlords often forget to ask applicants for the one thing they need to run a background check–a signature of consent. Sometimes, application forms have a place for the person to sign, but there are some forms out there that don't include this all-important feature. Any Maine landlord that wants to run a background check needs to have written consent from the applicant first.
If the rental application papers that landlords are using doesn't ask for a signature, it's time to make a change or use a new form that does.
Here's a RentPrep document as an example: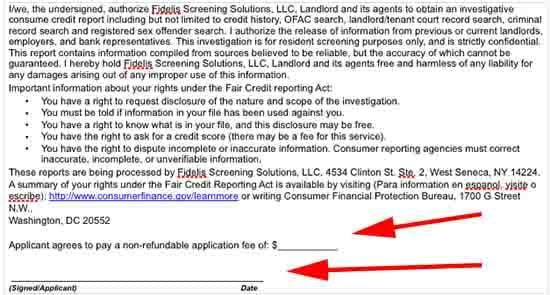 The top arrow points to language revealing that the application fee is non-refundable.
The bottom arrow points to where applicants must sign to give consent for a check.
Resources for Maine Tenant Screening:
We've gathered some of the best forms and resources to help landlords like you find the best possible tenant for your rental.
*Consider a no blank space policy, where landlords discard an application with blanks instead of answers. However, this screens out applications that are a waste of time and may be an attempt by the applicant to cover up questionable parts of their history.
Maine Tenant Screening Process
With several completed applications, landlords now need to implement their tenant screening criteria list. It is a list of features that the landlords is looking for in an ideal tenant for that vacancy. Interestingly, the list items should be general rather than specific. They should also be realistic while maintaining some higher standards.
Here's an example of a screening criteria list:
No evictions
Smoking OK
Credit score minimum is 700
No pets
No bankruptcies
Income to rent ratio is 2:1
No criminal history
Landlords sort their applications according to the list, promoting some for further consideration while denying others. It's a fine way to discover the top applicants that meet the landlord's realistic requirements.
Maine landlords cannot discriminate against protected classes with a screening list. However, before making such a list, they should definitely review everything on the hud.gov website about housing discrimination.
Once landlords have their short list of applications, it's time to take the next step with Maine tenant screening laws:
Maine law has no application fee limit
Application fees are non-refundable, even if the application is turned down
Landlords cannot discriminate against protected classes
There's more on Maine laws and regulations here.
[activecampaign form=140]
Find Your Perfect Renter
Finding the right tenant can be a headache if you don't know what you're doing.
That is why we've created a tenant screening guide for you to find the perfect renter.
Check out our free tenant screening guide and learn how to find the perfect renter.
Selecting the Best Tenant Screening Service
Once applications are sorted, landlords in Maine need to find the best tenant screening services. Some companies only deliver a little, while others provide a comprehensive background check.
Therefore, a good company should provide:
Details on prior evictions
Bankruptcies
Judgments and liens
Previous addresses
Using the background information from the tenant screening service, Maine landlords will be able to make a decision on an applicant. While good tenant screening is no guarantee, it significantly reduces the risk of ending up with a bad tenant.
At RentPrep, we've worked with over 21,000 landlords over the past 10 years. Our FCRA certified screeners will put your mind at ease by providing the best tenant screening report available.
Check out our tenant screening packages to see the services we offer.