Louisiana tenant screening can be the key to a successful real estate business, but far too many landlords either skip this process or simply don't do it properly. When landlords do tenant screening, they find the best tenants for their properties.
Louisiana tenant screening may be a little different than other states. From Baton Rouge and Lafayette to Shreveport and New Orleans, landlords can learn a lot about these topics:
Louisiana tenant screening laws
Overview of the screening process
All kinds of free resource links
Guide to choosing a tenant screening service
Louisiana Tenant Screening Laws
Landlords in the state of Louisiana need to understand the unique regulations they are operating under to find good tenants and avoid discrimination.
Louisiana tenant screening laws include:
The state sets no limits on how much of an application fee that landlords can charge
Landlords can charge whatever they want for a security deposit as Louisiana law does not set a maximum amount.
Application fees are not refundable, where security deposits are refundable based on the tenant's treatment of the rental property.
Application fees are due at the time the application is given to the landlord, while a security deposit is due when the chosen applicant signs the lease and becomes a tenant.
Learn more about Louisiana landlord/tenant laws right here.
Don't Make This Screening Mistake
Once Louisiana landlords are ready to fill a vacancy, they often start passing out applications to interested parties. However, there may be one enormous screening mistake they are making without even knowing it. They won't be able to run a background check unless they have a signed consent form from each applicant.
If there is no signature line on the application you are using that indicates the applicant is giving permission for a background check, it's a problem. If your form doesn't include this signature space, make the change right now.
This is what the application form at RentPrep looks like: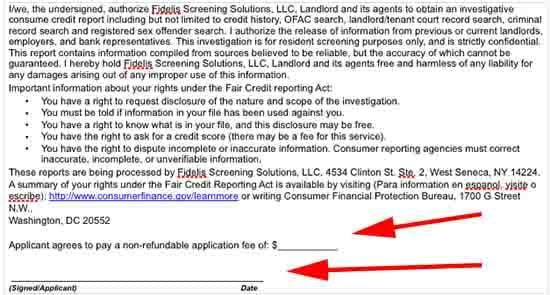 The top arrow clearly states that the application  fee is non-refundable, something that many applicants have a hard time understanding.
The bottom arrow is where applicants should sign to give landlords consent to run a background check.
Resources for Tenant Screening in Louisiana
RentPrep has gathered a helpful list of links for you to use in your real estate business. There's no better way to find top tenants than to use the information here.
*Do you have a no blank space policy in your application process? It's a good idea that means you just don't accept any applications with blank spaces for answers. Why is this a good thing? Because sometimes applicants that don't want people looking too closely into some part of their background leave blank spaces on applications. You need all the information on an applicant, and you can't get it with blank spaces.
Louisiana Tenant Screening Process
Another helpful thing you can do is to come up with a screening criteria list. This is a compilation of factors that you compare each application to. Landlords that create a good list of features they want in a tenant are one step closer to finding them.
A typical screening criteria list includes things like this:
No smoking
Minimum credit score
Pet restrictions
Income to rent ratio
Arrest record or criminal history
Eviction history
Of course, tenant screening criteria cannot include any conditions that would discriminate. The complete list of protected classes can be found on the hud.gov website.
Apply the screening criteria consistently to each application to sort them into rejections and those that are moving to the next level.  Never make exceptions to your list or  you might actually be discriminating. Avoid a discrimination lawsuit by creating a written list and sticking to it every time.
The Louisiana tenant screening process includes:
Application fees are not limited by Louisiana law and are collected at the time the application is turned in.
Even if the application is denied, application fees are not refundable.
Landlords cannot discriminate against protected classes when reviewing applications.
Remember that you need to be consistent during the tenant screening process so that you get the best applicants for your property without engaging in anything illegal or discriminatory. Learn more about Louisiana screening criteria here.
[activecampaign form=140]
Find Your Perfect Renter
Finding the right tenant can be a headache if you don't know what you're doing.
That is why we've created a tenant screening guide for you to find the perfect renter.
Check out our free tenant screening guide and learn how to find the perfect renter.
Use a Top Screening Service
Once you have a few applications that you are interested in, it's time to choose a tenant screening service. You need a company that provides in-depth background checks for landlords so you can get all the information on each applicant to make a decision.
Make sure the screening service checks out the following areas:
Evictions
Bankruptcies
Judgments/liens
Previous addresses
Always run background checks on every qualified applicant. That's because a detailed screening can tell you a lot more about the person than you can find out on your own. The most successful landlords never rent to someone without doing a full background screening.
At RentPrep, we've worked with over 21,000 landlords over the past 10 years. Check out our tenant screening packages to see the services we offer.
Our FCRA certified screeners will put your mind at ease by providing the best tenant screening report available.