You may not know it, but one of the best ways to find a good tenant is to conduct a thorough tenant screening. Way too many Kentucky landlords skip this critical process, leading to months of frustration and lower profits. A Kentucky tenant screening helps landlords located the finest tenants available.
Kentucky tenant screening may be a little different than other states. Whether you are near Louisville, Lexington, Frankfort or elsewhere, you need to know about these:
Kentucky tenant screening laws
Steps in the screening process
Free resource for landlords
Top tenant screening services
Kentucky Tenant Screening Laws
Landlords in Kentucky may not realize that the state has enacted laws and regulations on tenant screening. You may not know it, but Kentucky tenant screening laws are a little different than other states.
For example, Kentucky tenant screening laws include:
Kentucky laws don't limit the amount a landlord can charge for an application fee.
There is also no limit on security deposits, so Kentucky landlords can set their own amounts.
In Kentucky, application fees are not refundable. Security deposits are refundable in every state, after deductions are taken off for damages and other charges.
Of course, all application fees in Kentucky are due at the time the application is turned in. You can learn more about Kentucky landlord/tenant laws here.
Are You Making This Screening Mistake?
Kentucky landlords might be making this one big screening mistake and not even know it. Basically, you can't do a background check on an applicant unless they provide consent. In other words, you must have a signed consent form in order to conduct a background check on an applicant. 
Check the application you are using right now to see if there is a signature line. If not, you need to add one right away because without it, you won't be able to get a tenant screening company to get to work.
Here's the RentPrep rental application form: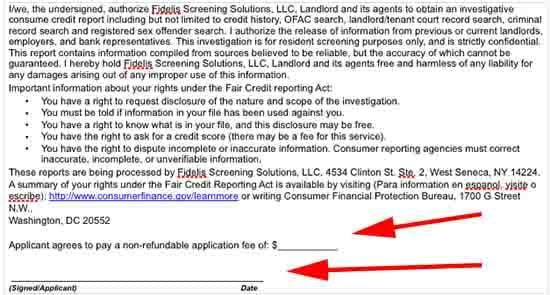 Look at the top red arrow. It shows applicants that the application  fee is non-refundable.
Now, look at the bottom red arrow. It shows applicants where to sign in order to give permission for a background check.
Resources for Tenant Screening in Kentucky
RentPrep has gathered a helpful list of links for you to use in your real estate business. There's no better way to find top tenants than to use the information here.
*For even better screening, implement a no blank space policy. That's when you don't accept any applications that have spaces that aren't fill out. It's an efficient way to weed out applicants that don't want you to look at certain areas of their past.
Kentucky Tenant Screening Process
Do you have a screening criteria list prepared? You can create one for every rental property you own. It's a list of ideal features that you want to see in a tenant. Of course, keeping the features realistic will help you fill that vacancy with the best tenants.
Your screening criteria list may include some of these features:
Smoking is OK
Minimum credit score of 600
No pets
A 2:1 income to rent ratio
No violent criminal history
No prior evictions
Always be careful when you are creating your list of tenant screening criteria that you don't add discriminatory features. You can't discriminate against a protected class as outlined on hud.gov.
When you put each application up to your screening criteria, you can quickly eliminate those that don't meet your preferences. Always stay consistent when applying the screening criteria list. Otherwise, a denied applicant might try to sue you for discrimination.
The Kentucky tenant screening process includes:
Kentucky application fees have no limits
Landlords can collect the fee when the application is turned in
Application fees are not refundable
Landlords must avoid discriminating against protected classes
Stay consistent when doing tenant screening so you avoid problems and find the best tenant out there. Get this handy guide on Kentucky screening criteria here.
RentPrep's Tenant Screening Guide
In this post we will examine everything you should know as a landlord considering tenant applicants.
This guide will walk you through the tenant screening process.
[activecampaign form=140]
Located a Tenant Screening Service
Choosing a tenant screening service is the final step to getting that ideal tenant in place. Therefore, look for a service that provides you with all the important information you'll need to make a decision about each applicant.
At the very least, the service should provide results for the following areas:
Eviction history
Bankruptcy history
Judgments and liens
Previous address history
Every qualified applicant should get a background check, because no matter how good your gut instincts are, they are not a replacement for actual info. In other words, to be a successful landlord, use the tools available to make the best decisions. Tenant screening is an important tool that you can use with every vacancy.
At RentPrep, we've worked with over 21,000 landlords over the past 10 years. Check out our tenant screening packages to see the services we offer.
Our FCRA certified screeners will put your mind at ease by providing the best tenant screening report available.