Landlords in the state of Kansas struggle with bad tenants far too often. There are ways to reduce the risk of renting to problem tenants by doing a thorough background check. However, way too many landlords just go with their gut and don't look into Kansas tenant screening.
Kansas tenant screening is the best method to take to identify good renters and weed out the bad.
Landlords across the state–in Wichita, Kansas City, Topeka, and even Dodge City—are taking the time to learn all there is to know about Kansas tenant screening. This article will cover important Kansas topics like:
Kansas tenant screening laws
Free resources for landlords
Screening process overview
Tenant screening service
Kansas Tenant Screening Laws
Every state is different when it comes to tenant screening laws, and Kansas is no exception. Landlords should know the differences between Kansas tenant screening laws and the rest.
Here are just a few of the details that Kansas tenant screening laws include:
Unlike some states, Kansas doesn't restrict how much landlords can charge for an application fee
The laws do regulate the security deposit amount as no more than two month's rent
Application fees are always non-refundable in the state of Kansas, even if the application is not approved
Landlords across the state of Kansas are doing themselves a disservice when they don't bother to learn the laws concerning their business. Not only is it costing them time and money, it is definitely a problem if it persists year after year.
This helpful guide gives landlords in Kansas lots of information on tenant screening laws.
Don't Make This Screening Mistake
Many landlords are not aware that they cannot run a background check on an applicant unless they have written permission. Before they look at another vacancy, Kansas landlords need to check out the paperwork for their application and make sure that there is a signature line. No matter what, Kansas landlords must get written consent from every applicant before running a background check.
Landlords that don't have a signature line on their application form should make changes right away. If they aren't quite sure how to do that, or what language to use, here is an example from RentPrep: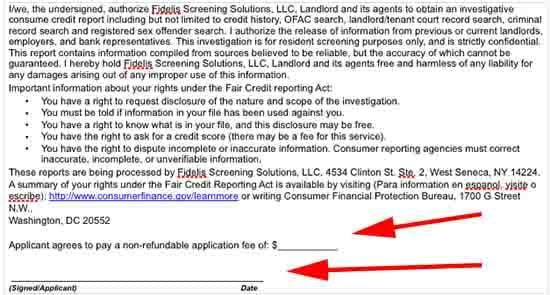 Top arrow: Notice to the applicant about the non-refundable status of the application fee.
Bottom arrow: A signature line where each applicant signs to give permission for a background check.
Resources for Kansas Tenant Screening:
We've gathered some of the best forms and resources to help landlords like you find the best possible tenant for your rental.
*Consider using a no blank space policy, which allows landlords to discard any application that isn't completely filled out. A complete background check cannot be run if there is missing information, and therefore a waste of the landlord's time. Only complete applications should be processed for consideration.
Kansas Tenant Screening Process
Landlords should comprise a tenant screening list, which is one of the best tools they have in sorting out piles of applications. Basically, a tenant screening criteria helps landlords stay consistent and apply the same standards to everyone.
These are some of the most common areas in a screening criteria list:
Smoking
Credit score range
Pet policy
Income to rent ratio
Criminal history status
Eviction status
Length of time at current job
Landlords compare the applications to their tenant screening criteria list to choose the ones that most closely match.
Of course, landlords cannot discriminate against protected classes when sorting applications—this is illegal. If there are any questions about housing discrimination and protected classes, read the hud.gov website.
Screening criterita plus tenant screening laws will help landlords in Kansas find the best applicants to become tenants. Here's a reminder:
Application fee are unlimited according to Kansas law.
Landlords should collect all application fees when the application is turned in.
Landlords in Kansas should always inform applicants that their application fees are not refundable.
Keep on top of any changes to the Kansas laws and regulations by checking in here.
[activecampaign form=140]
Find Your Perfect Renter
Finding the right tenant can be a headache if you don't know what you're doing.
That is why we've created a tenant screening guide for you to find the perfect renter.
Check out our free tenant screening guide and learn how to find the perfect renter.
Tenant Screening Doesn't Have To Be Boring
We understand that you bought a rental to make money and not to screen tenants.
It's not a fun step but it's pivotal in making your life easy as a landlord.
We've created a tenant screening guide that will walk you through exactly what to do.
We've also added comics and a main character in Laura to follow along the way.
Click the comic strip to learn more.


Choosing Tenant Screening Services
Choosing a tenant screening service should be based on a reasonable fee and the quality of reporting. If landlords find a company that provides both, they are doing it right.
The best tenant screening services include reports on:
Prior evictions
All bankruptcies
Any judgments and liens
Past address history
The tenant screening service provides landlords with as much background information on applicants as they can. Landlords in xxx then use that information to make a final decision. While xxx tenant screening may seem long and complex, it's really not and it is the best way to ensure that they are getting the best of the best.
At RentPrep, we know what it takes to succeed, because we've worked with over 21,000 landlords over the past 10 years. Our FCRA certified screeners will put your mind at ease by providing the best tenant screening report available.
Check out our tenant screening packages to see the services we offer.