What's so great about Iowa tenant screening? If you want a successful real estate business, getting the right tenants is a key part of easing stress, preserving properties and collecting rent on time and in full. In Iowa, tenant screening is the key to identifying the best applicants out there.
Iowa tenant screening laws are one-of-a-kind and landlords need to know the details. Whether you live in or near Des Moines, Davenport, Cedar Rapids or Iowa City, you can make the laws work for you.
Here are just a few of the important topics:
Iowa's unique tenant screening laws
A look at Iowa's tenant screening processes
Free resource links
Selecting a tenant screening service
Iowa Tenant Screening Laws
The search for good tenants begins with understanding Iowa tenant screening laws. You can start educating yourself by knowing these important things:
Landlords in Iowa can charge whatever they want for an application fee
The state limits the maximum security deposit to 2 months rent
In Iowa, all application fees are not refundable even if the application gets denied for any reason
Like most states, application fees are paid when the paperwork is given to the landlord.
Learn more about Iowa landlord/tenant laws right here.
This Screening Mistake is Way Too Common
As interested parties start filling out applications, many landlords sit back and relax. But there is one screening mistake that is way too common–forgetting to get a signature of consent from the applicant. In other words, you won't be able to run a background check without a signed consent form.
Does your current rental application have a signature line? That is all you need from them to run that important background check. No signature line? It's time to amend your forms to include one as soon as possible.
Here's an excerpt from the RentPrep application form: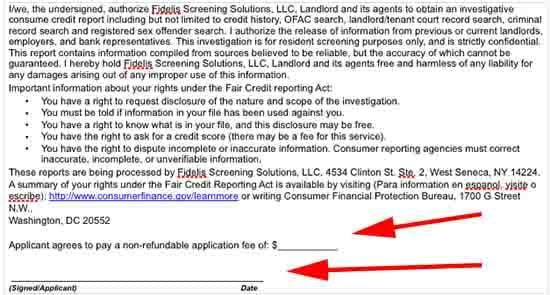 Notice that the top arrow indicates the information about the non-refundable application  fee.
See how the bottom arrow points out the signature line for applicants to give consent to a background check.
Resources for Tenant Screening in Iowa
RentPrep has gathered a helpful list of links for you to use in your real estate business. There's no better way to find top tenants than to use the information here.
*Looking for a technique to sort through initial applications? Adopt a no blank space policy.  If an application arrives with a blank space for an answer, it often means the applicant doesn't want anyone investigating that part of their past. Using a no blank space approach to applications helps divide the complete ones from the incomplete ones.
Iowa Tenant Screening Process
Do you have a screening criteria list? If not, it's time to make one. List all the factors you want in the ideal tenant, then keep it beside you as you sort through applications. If you get a good list established, selecting applications for consideration will be easier than ever.
Your screening criteria list should include your preferences for things like:
Eviction history
Pet restrictions
Smoking
Minimum credit score
Income to rent ratio
Arrest record or criminal history
Once your list is done, make sure none of the criteria are discriminatory. Landlords can't discriminate against protected classes. Learn more about housing discrimination at the hud.gov website.
As you read each application, apply the screening criteria list and sort them into rejections and approvals. Stay consistent and never make exceptions.  You'll avoid a discrimination lawsuit when you evenly apply your written list to every application.
Remember, the Iowa tenant screening process includes:
No limits on application fees
Fees are collected when the application is turned in to you
Iowa rental application fees are not refundable
Never discriminate against protected classes when sorting applications
Never trust your gut when going through applications, because you need to be fair and consistent during the tenant screening process. In no time, you'll have a few applications that stand out above the rest. Iowa screening criteria information can be found here.
[activecampaign form=140]
Find Your Perfect Renter
Finding the right tenant can be a headache if you don't know what you're doing.
That is why we've created a tenant screening guide for you to find the perfect renter.
Check out our free tenant screening guide and learn how to find the perfect renter.
Finding a Quality Screening Service
Finding a screening service is the last step in sorting all the remaining applications. When you choose a tenant screening service, pick one that provides in-depth background checks for landlords.
A top quality screening service should look at an applicant's background:
Evictions
Bankruptcies
Judgments/liens
Previous addresses
There's no substitute for a detailed screening. Therefore, it will tell you whether or not the applicant will be a high risk tenant or not. You should never rent to a person without having the information from a full background screening to influence your decision.
At RentPrep, we've worked with over 21,000 landlords over the past 10 years. Check out our tenant screening packages to see the services we offer.
Our FCRA certified screeners will put your mind at ease by providing the best tenant screening report available.