Tenant screening is a topic that Indiana landlords should know all about. While many of the laws and regulations for Indiana tenant screening resemble those in other states, there are some unique features.
We've rounded up all the relevant information for Indiana tenant screening. This is so that landlords like you can focus in on renting your properties to the best possible tenants.
Key topics include:
Indiana tenant screening laws
Free resources
Overview of the screening process
Tenant screening services
Indiana Tenant Screening Laws
In Indiana, tenant screening laws are put into place to ensure that the process is fair to both sides. Just a few of the features in Indiana tenant screening laws include:
The application fee is collected when the applicant turns in their paperwork to the landlord
There are no legal limits on the application fee amount that Indiana landlords can charge
Like most states, Indiana application fees are non-refundable
Tenants and landlords should remember that the application fee is separate from the tenant's security deposit. Most noteworthy, the application fee is not refundable. Hence, the security deposit is refundable based on the tenant's behavior and care of the rental property.
You can learn more about Indiana tenant screening here.
Avoid Making This Screening Mistake
Whether you've downloaded your rental application from the internet or written up your own, you may be making one screening mistake that too many landlords make. Consequently, you won't be able to run a background check on any applicant unless you get signed consent form. Therefore, without consent you can't take the next step of researching the applicant to see if they have been a good tenant.
A thorough rental application should have a section that asks for signed consent from the applicant. Here is what our consent form looks like here at RentPrep.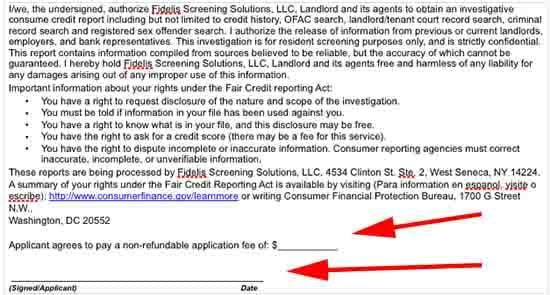 You can see that the top red arrow clarifies information about the application fee. The bottom red arrow shows where the applicant must sign to give consent for a background check.
Resources for Tenant Screening in Indiana
Every landlord can use these free forms and resources to better their business. In addition, we know what it takes to find the best possible tenant to sign your lease agreement.
*Have you heard of the "no blank space" policy that many landlords are adopting? This simply means that you won't accept applications with blank spaces as answers to questions. If an applicant has something to hide, they often leave blank spaces in hopes that landlords won't look very deep. It's an effective way to avoid applicants with bad rental histories.
Indiana Tenant Screening Process
Do you have a screening criteria list that you use to sort through applications? Many landlords know the type of person they desire to rent their property. The best way to create that tenant avatar is to come up with a list of factors.
Your screening criteria may look something like this:
No smoking
No pets
At least 6 months at current job
Income to rent ratio must be at least 2x
No violent criminal activity
Absolutely no previous evictions
Remember that you are not allowed to discriminate against a protected class. Make sure that nothing on your list does this. To get more details on all the protected classes, check out hud.gov.
Write down the screening criteria and use the list for every application. Consistency will protect you from any kind of discrimination suit that an applicant may throw at you.
If you are not consistent in screening applicants, it can appear as if you are discriminating. If you have a set list of qualifications that you use every time, you'll avoid legal trouble.
Since it's easier than every to use all the free resources out there, there's no reason to strike out alone. Therefore, we've created a list to help you figure out how to separate applicants into rejections and approvals. Consequently, this gets you one step closer to finding a good tenant.
Always remember:
There's no limit in Indiana for the non-refundable application fee
Indiana law lets landlords charge whatever they want as a security deposit, as long as it is "reasonable"
Background checks require a signature of consent from the applicant
Take the time to read the Indiana Landlord/Tenant Handbook here.
[activecampaign form=140]
Find Your Perfect Renter
Finding the right tenant can be a headache if you don't know what you're doing.
That is why we've created a tenant screening guide for you to find the perfect renter.
Check out our free tenant screening guide and learn how to find the perfect renter.
How to Pick the Best Screening Service
By now, you've got a few different applications of those people that meet all your requirements. Hence, now is the time to submit the applications for a full background check. While you can do it on your own, a professional screening service is the best way to do this. Make sure the screening service provides the following:
Eviction search
Bankruptcy history
Judgments/liens
Previous addresses
A good screening service will provide a comprehensive report about each applicant so landlords can make the best decision. Avoiding a background check will only create problems down the road.
In conclusion, landlords from across the country choose RentPrep, because we've worked with over 21,000 landlords over the past 10 years. Check out our tenant screening packages to see the services we offer.
Our FCRA certified screeners do the best work of providing the best tenant screening report available.