When it comes to Illinois tenant screening, there are some things that are not done anywhere else, while other aspects reflect similar practices across the country. That is the reasons why this article covers some of the biggest questions that landlords have about how to get outstanding tenants into a rental property.
Landlords that want to learn more about Illinois tenant screening should pay attention because in this post, you will learn more about:
Illinois tenant screening laws
Where to get free screening resources
How the screening process actually works
What you need to do to pick the best tenant screening service
Illinois Tenant Screening Laws
If you want to make sure you are compliant with all the laws that Illinois has in place regarding tenant screening and beyond, take some time to learn where and how things differ from some of the other states.
Here are just a few of the Illinois tenant screening laws:
Illinois law doesn't set a limit on how much landlords can charge for application fees
The application fee is non-refundable
There's no limit to the amount that a landlord can charge for a security deposit
Remember that an application fee is never considered a part of the security deposit, which is refundable, minus deductions for damage and unpaid rent. If you want to provide a refund of the application fee for any reason, you can do that.
Don't you want to learn more about the laws surrounding Illinois tenant screening? This guide is the ultimate landlord-tenant source for Illinois law.
Never Make This Screening Mistake
Before you can do any kind of background check on an applicant, you must get a signed consent form.Without it, you won't be able to investigate the applicant's rental history, employment confirmation and more.
Be sure your rental application form has a specific section that requests a signed consent from the applicant so that you can legally run a background check.
For example, here is one of our forms used here at RentPrep.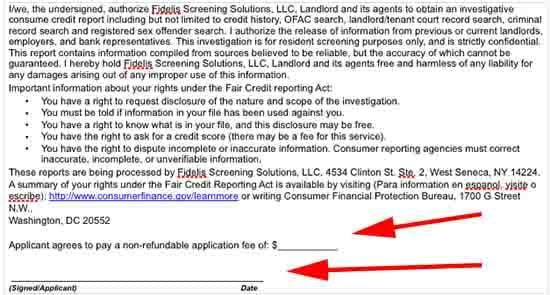 First of all, make sure you point out that the application fee is non-refundable, as indicated by the first red arrow. Most applicants will ask about it.
Most of all, make sure that you get the signature of the applicant that grants consent to run a background check, as indicated by the second red arrow.
There are plenty of resources available for you as an Illinois landlord, and we are here to help you access them all.
Resources for Tenant Screening in Illinois:
These free forms and informative posts are among the best resources that will help you find a great tenant for your rental property.
*Here's a good tip for you to use in all your rental applications–a "No Blank Space" policy. This means that you don't accept any rental applications that have a blank space. Often, applicants with something about their past they want to hide will leave blank spaces on the application. Consequently, if you don't accept rental applications with blank spaces across the board, no matter who submits them, you could be saving yourself a lot of trouble.
Illinois Tenant Screening Process
Every landlord should create a list of screening criteria for each rental property. This is a list of must have features that you want in your ideal applicant.  Especially relevant is to write the list down so you can apply it consistently to all applicants.
Your Illinois tenant screening criteria might include things like this:
Absolutely no previous evictions
Never rent to smokers
No violent crimes
Pet restrictions or no pets
Must earn at least three times the monthly rent
Your list can contain many things, but it cannot discriminate the protected classes as outlined by HUD and the Fair Housing Act. It's never OK for your criteria, marketing, or screening process to discriminate. For more details, please visit hud.gov.
So, you can protect yourself from a discrimination lawsuit from a denied applicant or government agency by writing down and applying your tenant screening criteria to every application you get.
Always make the effort to be very consistent when screening your tenants. Never make exceptions or change up your criteria when screening, not even for a case-by-case scenario. That's because such actions might be seen as discrimination and you could get in a lot of legal trouble.
Remember that the tenant screening process remains mostly the same across the country, but Illinois landlords definitely need to remember details like this:
Some municipalities in the state, like Chicago, have laws that differ from the state, and are often more strict.
There's no limit to how much a landlord can collect in either application fees or in security deposits, but these fees must be reasonable.
All fees should be consistent with all applicants, because charging different rates for various applicants could be seen as discrimination.
Again, we suggest reading this guide for details on Illinois law.
[activecampaign form=140]
Tenant Screening 101
We've put together a tenant screening tutorial that walks you through every step of the tenant screening process.
This will show you how to skip costly mistakes and spot common red flags.
Read our guide to learn how to screen tenants.
Selecting a Screening Service
By now, you should have gathered up a few applications that you feel pretty good about and that meet your criteria. Now it's time to run a background check. But how?
At the most basic level, a thorough background check should include the following:
Eviction history
Bankruptcy history
Judgments and/or liens
Previous addresses
Never, ever rent to a tenant without a background check. It's a big mistake to trust your gut feelings when it comes to choosing a tenant. With rare exception, it will end up badly for you.
You can trust RentPrep to provide a thorough and accurate tenant screening service. After all, we've worked with over 21,000 landlords over the past 10 years, so we know what we're doing.
Check out our tenant screening packages to see the services we offer.
Our FCRA certified screeners are trained to give you the best tenant screening reports available.