If you are a landlord in Idaho and want to be more successful in your real estate business, it's a good idea to look at how you find applicants and choose tenants. Becoming more familiar with the Idaho tenant screening processes can help you do just that.
From Boise and Idaho Falls to Coeur d'Alene and Nampa, the tenant screening laws in Idaho are unique. This post will take you through each topic related to tenant screening in your state.
Discover what you need to know about:
Idaho tenant screening laws
Helpful free resources
Screening process overview
All about tenant screening services
Idaho Tenant Screening Laws
Each state has a different approach to tenant screening, and Idaho is no exception. Idaho tenant screening laws are designed to protect both landlords and applicants during the process
You ought to know Idaho tenant screening laws like:
Idaho places no limits on how much landlords charge for application fees
There's no maximum security deposit limit in Idaho either
Landlords must obtain written permission for credit checks
If the applicant is denied because of poor credit, Idaho landlords must provide the applicant with the information from the reporting agency
Remember that Idaho tenant screening fees are not refundable and is a separate charge from a security deposit, which is refundable.
Need more information? Read through this helpful Idaho landlord-tenant guide.
Are You Making This Screening Mistake?
Are you one of those landlords that constantly makes the same screening mistake? Landlords cannot run a background check on an applicant unless they have a signed consent form from them. If your application papers don't ask for a signature, you are making a costly mistake.
Your rental application forms must have somewhere for the applicant to sign, otherwise you miss out on the important opportunity to find out about their past experiences as a tenant and how they will pay for the rent in the future. If your papers don't have a signature line, make the changes right away.
Here is what we use at RentPrep.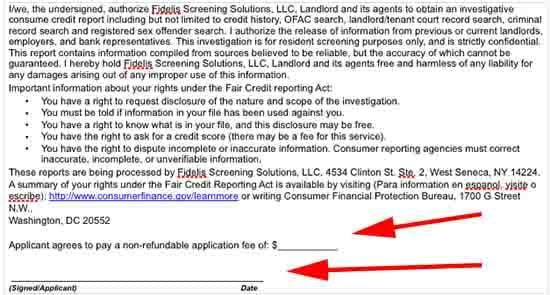 Top arrow: This shows applicants that their application fee is non-refundable.
Bottom arrow: This shows applicants where to sign to consent to a background check.
Now, are you ready for some free stuff? Great!
Resources for Idaho Tenant Screening:
These free resources include articles, guides and forms so that you can find the best possible tenant for your rental.
*Do you use a "No Blank Space" policy in your screening? If you want to weed out any applicants that may have something to hide, just try it. When you get an application, look for any blank spaces instead of answers. If the application has blanks, you can reject it. Way too many applicants leave blanks when they don't want landlords digging into their past. If you refuse all applications with blank spaces, you can avoid potential bad tenants right away.
Idaho Tenant Screening Process
Do you have an Idaho tenant screening criteria list yet? It's the best way to make it easy and fair when sorting out applications. By writing down the criteria for the ideal tenant in list form, you can compare your applications and sort them accordingly.
Of course, as you are creating your screening criteria list, make sure it is reasonable and not so narrow that you won't find any applicant that matches.
This is an example of a typical list:
No evictions
Smoking only on porch or patio
No pets
Income to rent ratio must be 3:1
No previous convictions
No recent bankruptcies (within 3 years)
Never include criteria that would discriminate against applicants.  If you need to review the information about housing discrimination and protected classes, look at the hud.gov website.
You'll never lose a discrimination lawsuit if you use this screening criteria list and stay consistent when sorting applications. If you start to make exceptions, that's when it looks like you are discriminating. Avoid legal trouble and create a good list that helps you, not hinders you..
Remember as you sort through applications, Idaho tenant screening laws still apply:
There's no limit on application fees or security deposits
Landlords must provide applicants with credit information if they are denied
Application fees are not refundable
More details about landlord/tenant laws for Idaho are located here.
[activecampaign form=140]
Find Your Perfect Renter
Finding the right tenant can be a headache if you don't know what you're doing.
That is why we've created a tenant screening guide for you to find the perfect renter.
Check out our free tenant screening guide and learn how to find the perfect renter.
A Tenant Screening Guide Worth Reading
There are two types of landlords.
The first is one that complains about their tenants and all the drama they create.
The second landlord learns from these situations and understands that a proper tenant screening process will fix most issues.
The Best Tenant Screening Services
If you have two or three applications that have passed all your tests, it's time to run a full background check on them. So where do you find the best tenant screening services?
With a reasonable fee and timely turnaround, the best tenant screening services should give you this information:
Past evictions
All bankruptcies
Any judgments or liens
Address history
The best tenant screening companies will give you the information you need to make that final decision. Real facts are always better than instinct when choosing your next tenant.
Your landlord needs will be taken care of here at RentPrep, and we've worked with over 21,000 landlords over the past 10 years who trust us.
Check out our tenant screening packages to see the services we offer.
Our FCRA certified screeners will always work hard to provide you with the best New York tenant screening report available.