Did you know that Georgia tenant screening is just a bit different than what takes place in other states? It's true, and that's why this post covers a lot of the important points that landlords like you need to know.
We've created this helpful video to give you some quick tips right off the bat:
To get the best tenant living in your rental property, you should know about:
Georgia tenant screening laws
All kinds of free resources
Screening process overview
Choosing the right Georgia tenant screening service
Georgia Tenant Screening Laws
Each state does tenant screening a little differently, and Georgia tenant screening procedures are no exception.
Take a look at this information that successful Georgia landlords should know about:
Georgia puts no limits on what landlords can charge for application fees
There's also no maximum security deposit, so landlords can charge what the market will bear
Application fees and security deposits are not the same, as application fees are non-refundable
All this and more about Georgia tenant screening laws can be discovered in this helpful guide.
Never Make This Kind of Screening Mistake
It may seem like a no-brainer to run a background check on an applicant, but there could be one thing holding you up–consent. Without a signed consent form from the applicant, a landlord cannot get the necessary research on their applicant done.
Right now, you should check your rental application forms to see if there is indeed a section that indicates you need a signed consent from the tenant applicant to run a background check.
At RentPrep, we use clear and concise language for consent here in one of our most popular forms: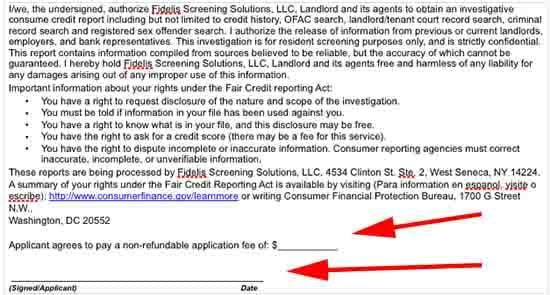 The top arrow highlights where the application fee is non-refundable. When it is included clear as day, applicants don't have to wonder about the status of the fee.
The bottom arrow indicates where the applicant must sign to give consent to run a background check. Having a signature line is one of the easiest ways to get a permanent record of that important signature.
Resources for Tenant Screening in Georgia:
You can never have too many free forms and resources when you are a Georgia landlord. Also, you deserve plenty of help to make it easier than ever to find the best possible tenant for your rental.
*Don't forget to use the "No Blank Space" standard for all your Georgia rental applications. This means that any application with a blank space is automatically denied. Often, applicants with information to hide just leave blank spaces on the application. Turning down applications with blank spaces allows you to screen out potential bad applicants.
Georgia Tenant Screening Process
Every landlord should create a list of screening criteria that applies to each rental property. You should also write down your final list for your files.
Your screening criteria will likely include factors like this:
No prior evictions
Absolutely no smoking
Only certain kinds of pets
Income that exceeds three times the monthly rent
No violent crime arrests
As a landlord, you never want to set up any of your screening criteria, your marketing, or your interviews to ever discriminate against any protected classes. You should read up on all these special groups as defined by hud.gov.
When your screening criteria is written down and on file, it can help protect you from a lawsuit launched by a denied applicant or responses by a government agency.
You should also make sure you are consistent in screening tenants. By this, we mean that you and all landlords should never make exceptions to the screening criteria you've listed. If you change your mind on a case-by-case basis, it might be seen as discrimination and could get you into legal trouble.
With the Georgia tenant screening process, you should keep a few things in mind:
Application fees are non-refundable if the application is denied
Besides an application fee, landlords can charge cleaning fees, pet deposits, advance rent deposits, and other fees.
Before paying any deposits or fees, applicants are allowed to get in writing what the payment is for and whether the payment will be refunded.
Again, we suggest reading this insightful guide for more laws and regulations specific to Georgia.
[activecampaign form=140]
Find Your Perfect Renter
Finding the right tenant can be a headache if you don't know what you're doing.
That is why we've created a tenant screening guide for you to find the perfect renter.
Check out our free tenant screening guide and learn how to find the perfect renter.
Choosing the Right Screening Service
Now that the hard part of choosing the top applicants is done, it's time to run a background check on them. You simply cannot trust your gut to choose the best tenant–only a tenant screening service can do it right.
At the very least, landlords should find out information about each applicant in these areas:
Eviction history
Bankruptcy
Judgments or liens
Previous address history
Save yourself a future headache and take the time to run background checks with a reputable company.
At RentPrep,  we've worked with over 21,000 landlords over the past 10 years, so we know about what it takes to do a thorough check. Learn more about out our tenant screening packages to see the services we offer.
Our FCRA certified screeners will always put your mind at ease when we provide you with the best tenant screening report available.