Do you ever get the feeling that you could be doing a better job of screening applicants for your rental properties? Many Delaware landlords feel the same way. One of the best ways to reduce the risk of bad tenants is to know as much as you can about Delaware tenant screening.
Here at RentPrep, we want to help Delaware landlords like you located the best tenants possible. From Wilmington and Newark to Dover and beyond, landlords with Delaware rental properties need to know about the tenant screening laws and procedures in their state.
We'll tell you all about:
Delaware tenant screening laws
Where to find free resources
Overview of the screening process
Finding the best tenant screening service
Delaware Tenant Screening Laws
Delaware is one of the states with unique tenant screening laws.  Whether they haven't known of the laws or haven' looked at them for a while, landlords in Delaware should take another look.
For example:
The state limits the amount of application fee that landlords can charge.
According to Delaware law, landlords can only charge the greater of 10 percent of one month's rent or $50.
Application fees are non-refundable.
Landlords in Delaware, like any other business owner, should make sure they are completely informed of the state laws that affect their business.
Delaware landlords can always use this guide to clarify tenant screening laws.
Common Screening Mistakes
Did you know you can't run a background check on an applicant unless you have written permission? It's true. Please go check your application form right now and see if there is a signature line. With one, you can run a background check. If not, it's time to make some changes. Unless landlords get written consent from the applicant, they cannot run a background check.
So, if you don't have a signature line on your rental application form, it's time to make some adjustments.
Check out this example from us at RentPrep: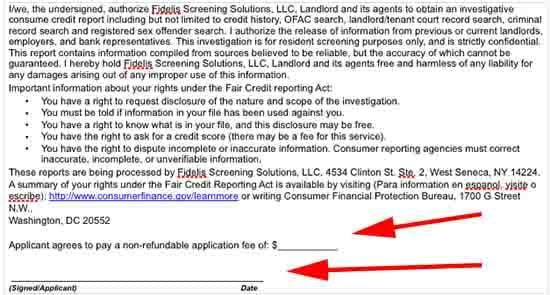 The top red arrow highlights where applicants are told about the non-refundable application fee that is used to pay for the background check. The bottom red arrow shows where the applicant must sign to give consent to do the background check.
Resources for Tenant Screening in Delaware:
These free forms and guides are valuable resources that can assist you in finding the best possible tenant for your rental property.
*Have you thought about a no blank space policy? This lets landlords toss any application that is incomplete. As long as there is missing information, don't waste your time on it.
Delaware Tenant Screening Process
Have you created your tenant screening list? This is when you write down all the factors that you want to see in your ideal tenant. Be realistic and somewhat specific, but not so much that you eliminate everyone. Of course, once you get applications, compare the applicants to your list and keep or reject accordingly.
Here's an example of a tenant screening criteria list:
Smoking allowed only in common areas
Credit score must be above 600
No pets
Income to rent ratio must be 3:1
No criminal history except misdemeanors more than 7 years old
No prior evictions
At least 6 months in current job
Then, you take each application and apply it to the list. It helps you focus on the factors you think would be most compatible with the rental unit.
Don't forget about housing discrimination laws and the protected classes. However, your list shouldn't discriminate and you shouldn't apply the list arbitrarily. Stay consistent and stay focused, and never go with just your gut feeling if they fall short of your standards. Check out the hud.gov website for any clarification.
To recap, these are important factors in Delaware tenant screening:
Delaware landlords may charge up to $50 for application fees.
Application fees are not refundable.
Tenant screening criteria lists cannot include discriminating features against protected classes.
Landlords in Delaware can legally reject applications that doesn't meet their fair criteria.
More on Delaware tenant screening processes can be found here.
[activecampaign form=140]
Find Your Perfect Renter
Finding the right tenant can be a headache if you don't know what you're doing.
That is why we've created a tenant screening guide for you to find the perfect renter.
Check out our free tenant screening guide and learn how to find the perfect renter.
The Best Tenant Screening Service
Have you picked a tenant screening service yet? Make sure it is based on a thorough background check and they charge a reasonable fee.
The best tenant screening service reports should include:
All prior evictions
Any bankruptcies
Judgments and liens
Address history
Of course you know that a tenant screening service provides you with the most detailed background information they can so you can make a good decision on your applicants. While Delaware tenant screening may seem like a waste of time, it is one of the best ways to ensure you get great tenants in your rentals.
We invite you to check out RentPrep, where we've worked with over 21,000 landlords over the past 10 years.
Check out our tenant screening packages to get a better idea about all the services we offer.
Our FCRA-certified screeners will deliver the best tenant screening report available, every time.