Connecticut tenant screening is an integral part of finding qualified applicants that will make the best tenants. If you are a landlord in Connecticut who is constantly struggling to figure out how to keep your properties full and find tenants who pay rent on time and in full, this article is for you.
Landlords in cities like Hartford, New Haven and Stamford are learning all about topics related to Connecticut tenant screening:
Tenant screening laws in Connecticut
Overview of screening process
Helpful free resources
Choosing a tenant screening service
Connecticut Tenant Screening Laws
When it comes to Connecticut tenant screening laws, they differ just a bit from surrounding states.  Because no two states are exactly the same, landlords must learn about the regulations that govern their rental properties.
Here are a few of the Connecticut tenant screening laws that impact decisions:
Landlords in the state are not limited in the amount they can charge for an application fee.
For security deposits, landlords cannot ask for more than 2 months rent
Tenants who are over 65 should only pay security deposits that equal 1 months rent
Application fees are separate from security deposits and are paid at different times.
You can learn all about Connecticut landlord/tenant laws here.
Do You Made This Common Screening Mistake?
As a landlord in Connecticut, you should check your application form to see if you are neglecting one of the most important things you need to screen tenants. Does your application form have a signature line where applicants grant permission to run a background check? Landlords must have a signed consent form from the applicant in order to run a background check on them.
If your rental application doesn't have a signature space, you should add it immediately. If you aren't sure what the language should look like, look at other examples.
This is how our application form at RentPrep looks: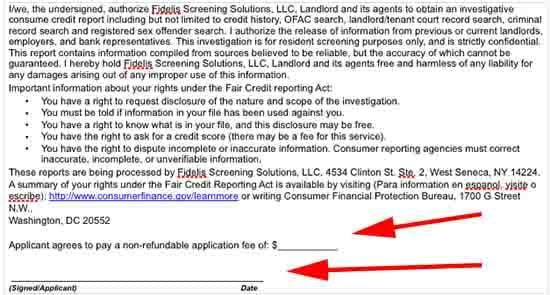 Look at the top red arrow. It shows the applicant that the application fee is non-refundable, in case they had any questions about that.
Now look at the bottom red arrow. This indicates where applicants must sign to give consent so you can run a background check.
Resources for Tenant Screening in Connecticut
These free forms and resources will help you find the best possible tenant for your rental.
*Have you ever considered a no blank space policy? That's an easy way to sort through applications. Essentially, it means you discard applications that have a blank space as an answer to any question. Sometimes, people with something to hide purposefully leave blank spaces on applications. You'll be able to screen shady applicants immediately with a no blank space policy.
Connecticut Tenant Screening Process
Successful Connecticut landlords create a list of screening criteria that they apply to every application before they even review them. A tenant screening list compiles everything that the landlord wants in their ideal tenant. You can do the same and make a list of screening criteria that will guide you in making a decision.
Common screening criteria include:
Status on smoking
Credit score minimum
Any pet restrictions
Income to rent ratio
Views on criminal history
Decisions about any past evictions
Your tenant screening criteria is then used to sort through applications. Most of all, you'll be getting closer to your ideal tenant when you apply a Connecticut tenant screening criteria list.
Of course, you shouldn't ever discriminate against protected classes when you are putting your list together or sorting applications. Make sure you know all about protected classes by reviewing the hud.gov website.
Remember the tenant screening process is unique in Connecticut:
Application fee limits and Connecticut law.
Landlords can collect the application fee when the application is turned in because it is separate from the security deposit.
Landlords in Connecticut should inform applicants that their application fees are not refundable.
You'll be able to learn all you want about Connecticut screening criteria here.
Tenant Screening Guide
Here at RentPrep, we work hard to create content to guide you through your tenant screening process.
This guide will walk you through the entire tenant screening process and show you exactly what to do when screening tenants.
[activecampaign form=140]
Find the Best Tenant Screening Service
Most of all, when you have two or three applications that you think look good, meet your checklist and have paid the application fee, its' time to send them to a tenant screening service.
The best tenant screening services should include:
Evictions
Bankruptcies
Judgments/liens
Address history
For the best results in choosing an applicant to be your tenant, always look at the information uncovered in a tenant screening. Your instinct will never be as accurate as facts that the tenant screening service uncovers. However, when you are ready to make a final decision, you'll know as much as you can about the applicant and whether or not they will make a good tenant.
At RentPrep, we know what it takes to succeed. After all, we've worked with over 21,000 landlords over the past 10 years.
Therefore, check out our tenant screening packages to see the services we offer.
Our FCRA certified screeners will put your mind at ease by providing the best tenant screening report available.