Hopefully, you are a landlord who understand the importance of Colorado tenant screening. Landlords who do are more likely to find the very best tenants in the state.  However, don't assume that Colorado does things the same way as other states do when it comes to tenant screening laws.
Whether you live in Denver, Boulder, Aurora, Fort Collins or somewhere else, in order to be a success, you need to learn all about these topics:
Colorado tenant screening laws
Screening process overview
Free resources for landlords
Tenant screening service guide
Changes to Criminal Data
In late 2017 Colorado stopped providing their criminal records to national databases. Instead, they've started to charge an access fee if you want to see that data.
The issue with this change is that the large majority of tenant screening companies are 100% automated and unable to access the Colorado criminal database.
We offer the TransUnion Full Credit Report, formerly known as SmartMove, here at RentPrep but this will not give you criminal data since it's an automated screening tool. We would suggest ordering a RentPrep Background Check with the Nationwide Criminal & Sex Offender Search add-on, where we access and report from the Colorado criminal database.
If you don't use a manual screening service you will not see any criminal records.
Colorado Tenant Screening Laws
Colorado tenant screening laws set the standard for how landlords must proceed in checking the backgrounds of applicants. Landlords should know as much as they can about these laws.
These are just a few of the Colorado tenant screening laws to know:
There is no limit for the maximum that a landlord can charge for an application fee
Many Colorado cities have laws and regulations that are actually stricter than the state law, so landlords need to check with the city where the rental property is.
The state doesn't limit the amount of the security deposit but requires landlords to keep it reasonable.
Application fees, which are not refundable, are separate from security deposits, which are refundable.
Learn more about Colorado landlord/tenant laws here.
Avoid This Common Screening Mistake
Of course, the next step for landlords in Colorado is to prepare to run a background check on qualified applicants. However, you won't be able to do this unless you have a signed consent form from the applicant.
The rental application form you are using should have a signature line where the applicant grants permission to run a background check. Forms without this important feature should be amended immediately.
For example, see how the forms at RentPrep look: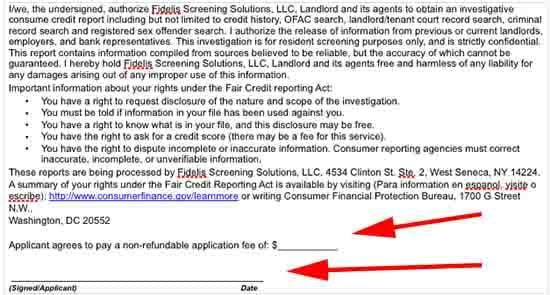 The top red arrow provides information to the applicant that the fee is definitely non-refundable. This will help prevent any misunderstandings down the road if the application is rejected.
The bottom red arrow shows where applicants must sign in order to give consent to run a background check.
[activecampaign form=140]
Resources for Tenant Screening in Colorado
RentPrep has gathered a helpful list of links for you to use in your real estate business. There's no better way to find top tenants than to use the information here.
*Consider implementing a no blank space policy, which is where you don't accept any applications that are not all complete. Often, people who don't want a part of their background to come to light will leave blank spaces. You can eliminate questionable applicants by using the no blank space policy in your screening.
Colorado Tenant Screening Process
If you haven't already, you should create a list of screening criteria factors that you will apply to each application. In other words, its a list of features you are requiring from every applicant in order to make your decision.
For example, your screening criteria list might include
No smoking
Credit score above 650
No pets more than 10 lbs.
Income to rent ratio must be 3:1
No violent criminal history
Absolutely no evictions
As you create your tenant screening criteria, don't ever include descriptions that might discriminate against protected classes. You can learn all about this on the hud.gov website.
Always be consistent when applying the screening criteria. After all, if you held some applicants to one standard and then ignored it for another, you could be accused of discrimination. It's the best way to avoid a discrimination lawsuit from someone you deny.
Remember the tenant screening process is unique in Colorado:
Landlords collect application fees when the application is turned into them. They don't collect a security deposit until the lease signing.
Application fees are not limited by Colorado law.
Landlords in Colorado should know that application fees are not refundable.
Above all, landlords should be very consistent during the tenant screening process. Learn more about Colorado screening criteria here.
Tenant Screening Guides Are Not Fun…
… but we try our best to keep our tenant screening guide fun and informative.
Through the chapters you can follow our comic landlord Laura as she shares insights on the tenant screening process.

Locating a Good Screening Service
The last step in tenant screening is actually locating a good screening service to perform the in-depth background checks.
Any good screening service will look at these parts of an applicant's background:
Evictions
Bankruptcies
Judgments and liens
Past addresses
You should always run a background check on qualified applicants because it will reveal far more than anyone can get with an interview or a written application. Don't even consider renting to someone without performing a background screening.
At RentPrep, we know what it takes to succeed. After all, we've worked with over 21,000 landlords over the past 10 years. Check out our tenant screening packages to see the services we offer.
Our FCRA certified screeners will put your mind at ease by providing the best tenant screening report available.