Alabama tenant screening is not something that landlords should ignore. In fact, if you want to ensure you get the best tenants in your rental properties, you should learn all you can about the process, and the laws that regulate it. Alabama tenant screening laws are just a little different than other states.
Alabama cities like Birmingham, Montgomery, Huntsville and others all follow the state rules and regulations for landlord-tenant relation. Your buiness will thrive when you become an expert in topics like this:
All about Alabama tenant screening laws
The overview of the screening process
List of free resources
Guide to finding the best tenant screening service
Alabama Tenant Screening Laws
Every state has tenant screening laws, and Alabama is no different. However, some of the details from state to state may vary, so it's important for landlords to know exactly what is required here.
Take a quick look at just a few of Alabama's laws when it comes to tenant screening:
Landlords have no limits put upon them for how much they can charge for an application fee
The state limits the amount of the security deposit to no more than one month's rent.
Application fees are separate from security deposits and are collected at different times in the application process.
As in most states, application fees in Alabama are not refundable.
You can learn even more about Alabama laws here.
Don't Make This Screening Mistake
As you get ready to run a background check on your qualified applicants, don't make this common screening mistake. Far too often, Alabama landlords don't collect a signature that gives consent for them to run a background check. In other words, you can't do this important step in the screening process unless you have a signed consent form from the applicant.
Hopefully, the rental application form you use has a signature line for the applicant to give consent on a background check. Make the change to your application right away if it doesn't have a place for a signature.
This is the form we use at RentPrep: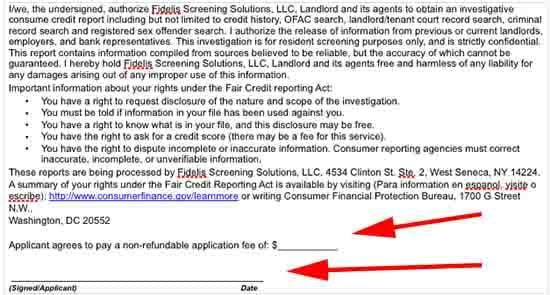 See how the top arrow is showing where applicants will learn that the application fee is non-refundable, something they will surely ask about.
See how the bottom arrow highlights where the applicants sign so the landlord receives their consent to run a background check.
Resources for Tenant Screening in Alabama
RentPrep has gathered a helpful list of links for landlords in Alabama to use. There's no better way to find top tenants than to use the information here.
*Have you ever thought about a no blank space policy? If landlords refuse to accept any applications with unanswered background questions, they can eliminate shady applicants who have something to hide. A no blank space policy is an easy way to boost the screening process to find only the best applicants.
Alabama Tenant Screening Process
Every landlord needs to create a list of screening criteria factors. This is a list of things that you would want to see in your ideal applicant.  You then apply that list to each application to help you sort them out.
Typical screening criteria lists often include:
No smoking
Minimum credit score
Restrictions on pets
Income to rent ratio, usually 2 to 1 or 3 to 1
No criminal past
No past evictions
Of course, landlords cannot discriminate against protected classes, so don't include factors surrounding race, religion, family status and more on that list.
Find out about all the protected classes on the hud.gov website.
Once your list is complete, use it to find applicants that best fit. Apply the same criteria to every application, because if you make exceptions or change your mind, you could be accused of discrimination. Inconsistency is a good way to bring on a discrimination lawsuit from a denied applicant.
The Alabama tenant screening process includes:
Application fees are collected upon receiving an application. They are not refundable, even if the application is denied.
Landlords should use the application fee to pay for a background screening service.
Application fees are not limited to a certain amount by Alabama law.
Learn more about Alabama tenant screening here.
[activecampaign form=140]
Find Your Perfect Renter
Finding the right tenant can be a headache if you don't know what you're doing.
That is why we've created a tenant screening guide for you to find the perfect renter.
Check out our free tenant screening guide and learn how to find the perfect renter.
Identify the Best Screening Services
There are many different companies that provide screening services, or in-depth background checks on applicants.
Make sure the screening service you choose looks at these parts of the application:
Evictions
Bankruptcy
Judgments/liens
Previous addresses
Every applicant should have a background check, because it is the surest way to get a good look at what kind of tenant they will be. Even if you pride yourself on your gut instincts, interview skills or ability to read people, there's no substitute for a real background check.
At RentPrep, we have worked with over 21,000 landlords over the past 10 years. Check out our tenant screening packages to see the services we offer.
Our FCRA certified screeners will put your mind at ease by providing the best tenant screening report available.