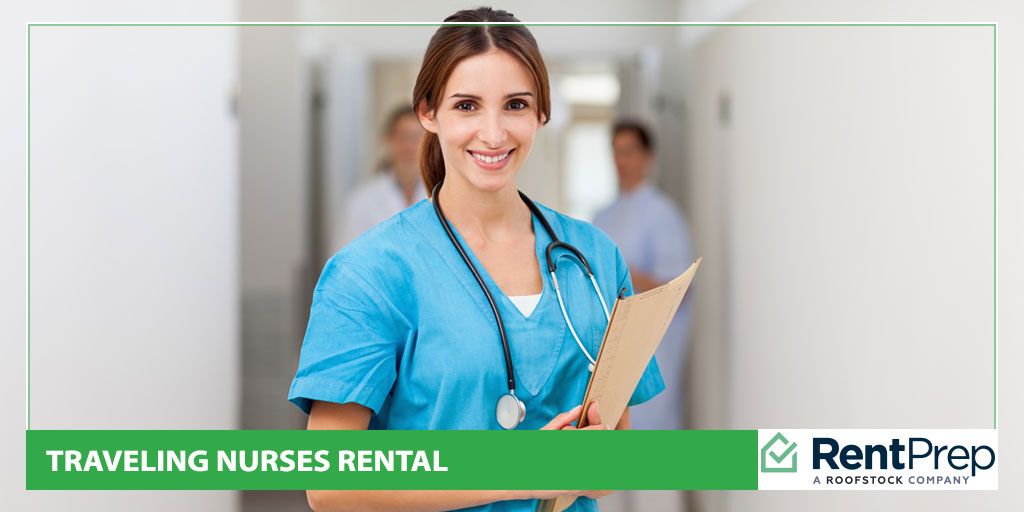 When thinking about your ideal tenant, have you ever considered a traveling nurse?
Many landlords focus on leases that range from six months to over one year, but what if you tried your hand at traveling nurse rental property management?
Traveling nurses are often on the road and constantly looking for unique housing options that can be difficult to locate. The landlord's opportunity to profit here is significant. A large hole in the housing industry must be filled, and you could be one of the rental property owners to do just that.
So, what do rentals for traveling nurses look like? Today, we'll answer this and other vital questions from landlords considering travel nurse rentals in their future business plans.
A Table Of Contents On Traveling Nurse Rentals
Travel nurse rental options are often limited due to the unique nature of these arrangements. What exactly makes the situation different? Learn all about these properties today:
Traveling Nurses And Rental Property: What's The Deal?

Why are short-term rentals needed for traveling nurses, and how can you include this situation in your future business model?
Traveling nurses are healthcare workers who go from place to place, providing support in different communities as needed. Hospitals, recovery homes, and many other healthcare employers need additional help for exceptional cases, staffing shortages, or specialty care.
When these nurses are brought to a new or remote area for work, they must find housing. Typically, the housing needs to be furnished and available for short-term rental. These options aren't always available, however, which means it can be difficult to bring in these workers when they are needed most.
When renting property, the agency bringing the nurse in may arrange everything directly with you. In other cases, the traveling nurse rents the property themselves. Either way, they will be looking for a unit with a quality of living that provides them with a home-like atmosphere without needing to move all their personal belongings with them.
The Benefits Of Renting To Travel Nurses
The number one reason to consider renting to travel nurses is to fill a massive gap in the rental industry. Though there is a need for this type of property, it isn't easy to find, especially in more remote locations. Landlords able to provide short-term housing options to healthcare professionals and other short-term lodgers will also be able to profit from this pivot.
Of course, that's not the only benefit. Here are some additional perks to renting to travel nurses as part of your rental business plans.
Flexible Agreements
Since travel nurses are typically stationed in a particular area for less than three months, you have more flexibility with managing rentals. If you want to do additional upgrades, stop renting, or sell the property, you only have to wait until that short rental period is over. That's much harder to do with long-term rentals, so this can be a significant benefit for certain properties.
Tax Deductions
As long as the unit is being used as a rental property, you will qualify for tax deductions for its maintenance and management, as well as any repairs or mortgage interest. Work with your accountant to ensure you get all the proper deductions for managing your short-term rental.
Increased Profits
Properties typically rent at a higher price when furnished and rented on a short-term basis. You can also adjust this seasonally to cover busy months (such as summer). The higher fees cover the additional risks of having a furnished unit and associated rental utilities, but it can also lead to long-term profit generation.
Rent can also be increased and adjusted more regularly when dealing with short-term leases. This allows you to keep up with the local market while remaining fair to your tenants.
Travel Nurse Rentals: Basic Property Requirements
What do travel nurses and their agencies look for when considering short-term rental properties? Learning about their expectations helps create the most attractive options for potential tenants. Your goal is to address their needs in a way that hotels and long-term leasing options cannot.
Here are some essential property expectations when dealing with travel nurse rentals.
Flexible Stay Length
Travel nurse contracts vary in length. They can be as short as two weeks or as long as 13 weeks. Very few last longer than this, but that is still three months. Traveling nurses will not want to rent a unit for six months only to use it for three months, so be sure to have flexible contracts that can be adjusted as needed for these properties.
Canceled Contracts
Travel nurses have contracts for their work, but they can be canceled by either the hospital or the nurse if issues arise. This means they would need to unexpectedly leave their housing, which could leave you with a vacant property.
Including easy but straightforward language on how cancellations would play into the rental period is attractive for remote nurses. The most common way to handle this is to write lease agreements as month-to-month rentals extending until a specific date unless otherwise specified. This gives them an out without hefty penalties while maintaining an agreement.
Furnished Units

Travel nurses want furnished units as they do not typically travel with their furniture and housewares, and buying new furniture every few weeks would be impossible to manage. If you plan to manage short-term rentals catering to this market, it's key to outfit your units with appropriate furnishings.
The furnishings should not be elaborate or overly expensive, but they should be comfortable and clean. Keep in mind what type of place you'd want to live in for a few weeks or months and include those items in your rental. You can even have optional add-ons, such as pots, pans, and serving ware, available at an additional cost.
Utilities And Connections
When possible, it's best to include WiFi, cable, and utilities in the rent when offering short-term rentals. Individuals moving from place to place frequently find setting up these services at each location is painful, expensive, and tiresome. Attract more renters by handling these things for them.
Reasonable Costs
Travel nurses receive a stipend to cover housing based on local market value. If you price your short-term rentals too far above expected housing costs, they will avoid it because it's not affordable.
Consider what fair market value is in your area and keep the rent within a reasonable amount. Travel nurses know they may pay slightly more for furnished units and the ability to do a short-term stay, but there is a limit to how much of a premium you can put on the rent.
Remember: Screening Still Matters
Even if you're changing your rental arrangement to suit the needs of traveling nurses, that doesn't mean you should change up your standard screening practices. It's a great time to review those practices to ensure they are up-to-date.
Screening tenants is essential for a profitable rental business. However, it can be overwhelming for landlords to manage on their own.
Get a better handle on your screening before managing a new rental property type. Utilize RentPrep to streamline your screening process with easy background checks, credit reports, and more. Visit our pricing pages today to learn more about included features, reports, and more. Screening has never been easier than it is with RentPrep.
FAQs On Rentals For Travel Nurses
Understanding this unique rental industry and whether it's a good fit for your business can be confusing. We've answered some of the most pressing questions from landlords like you:
Is renting to traveling nurses a good idea?
Landlords working with travel nurses find them to be fantastic tenants. Why is renting to these professionals such a positive experience for many landlords?
First, travel nurses tend to be very reliable. They have consistent employment, a stipend for their housing, and likely are held to a high standard at their jobs that may cross over into daily life. This makes it less likely to need to track down rent, deal with noncompliance, or other issues that can arise with tenants.
Another reason landlords enjoy renting to travel nurses is because they have a housing budget from their employer. Sometimes, the employer will directly handle paying for the rental, so you can guarantee your monthly rent collection in this way. Regardless, the employment is steady and thus the rent payments should be, too.
Travel nurse rentals are typically shorter-term than other rentals. They will last anywhere from a few weeks to a few months. Most contracts will be for less than six months. This means you can fill properties yet to be marketed for long-term contracts.
Whether this is because you are planning to sell the unit, upgrade it, or otherwise take it off the rental market, you can utilize the space for a short-term rental in the meantime. Consider using short-term rentals to continue generating revenue until you're ready to rent on a long-term basis.
What are the risks of renting to traveling nurses?
Every type of rental property comes with disadvantages. When renting to traveling nurses, here are some of the frustration points that you might find yourself up against:
Risk of cancellation:
If nurses finish their work early or the situation changes, the rental agreement may be canceled early. You can build safety measures into your contracts to prevent this, but there will always be some degree of higher turnover and additional costs when this happens.
High vacancy rates:
Another common issue reported by landlords working with traveling nurses is high vacancy rates on units marketed only to traveling nurses. The need for short-term rentals of this nature varies wildly throughout the year. Ensure you have an emergency fund ready to cover vacancy periods and consider marketing your short-term rental on vacation rental sites to fill those vacancies.
Increased turnovers and preparations:
Since this type of short-term rental is typically furnished and outfitted with necessities, what needs to be done between renters varies from that of standard, unfurnished units. Prepare for this increased investment and the higher vacancy rates associated with short-term rentals.
Furnishing, appliances, and more:
Finally, there's always a risk that you'll need to make improvements to furniture, appliances, and other items in the furnished unit more frequently than in long-term rental units. If your units aren't yet furnished, you'll likely need to do this before renting it out to traveling nurses, which can be a considerable added expense.
The key to all of these drawbacks is preparation. The worst thing that can happen is to be surprised by unexpected costs and problems. Knowing what could go wrong can set you up for success when those issues arise. Create a plan now for how to handle these problems.
How long do traveling nurse rentals typically last?
The length of traveling nurse rentals will usually line up with their work assignments. There is no set period for these contracts; they can be just two weeks long up to three-month positions.
If you are working with a local employer hiring traveling nurses, they can give you a better idea of what types of rental periods they'd be interested in. You can, of course, request them to fill a minimum period, but this can limit how many rentals you can find tenants for.
Ultimately, these will be short-term rentals. The exact length will be between you and the tenant or their employer. Work with them to determine the right length and pricing for the period in question to ensure that all parties are on the same page.
Is renting to traveling nurses profitable?
Renting to traveling nurses can be very lucrative. However, as with any rental property, there are no guarantees of profitability. Think about this type of rental as short term with a more targeted audience. If you have experience in this area, you already know what to expect.
If you don't, remember to appropriately market, target, and set up these properties to realize their actual value. Keep a close eye on the numbers, determine profitability early, and adjust as needed to generate additional revenue for your business.
Rentals For Traveling Nurses: Does It Make Sense?
The need for housing in the traveling nurse industry is real. Providing housing to essential healthcare workers is not only great for your community, but it also provides you with an excellent opportunity to grow your business into a less congested rental market.
There are many reasons why giving rentals for travel nurses a try:
Reliable tenants with solid employment
Payments often handled by hospital or employer
Limited wear-and-tear repairs
Greater flexibility than traditional lease agreements
If your area lacks this type of housing, it's time to find out if you can successfully enter this market. Set up a rental unit for nurses, rent it out, and see what happens. Even if you don't manage more than one or two of these rentals for travel nurses, the additional profits will boost your bottom line.