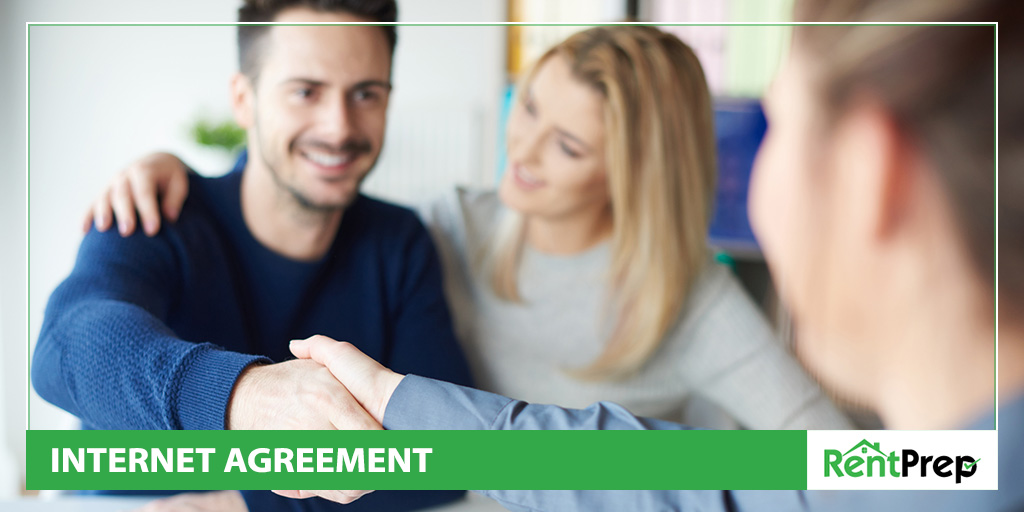 Do you provide internet access for tenants at your properties? These days, technology is more of an expectation than a bonus. Many potential renters will filter their rental browsing list down by whether or not an internet connection is provided or pre-installed.
For that reason, landlords around the world are more and more frequently providing some type of internet access at their properties. Having this access pre-installed (or included in the rental price) makes an appealing package for modern-day renters.
Should you choose to include internet access with your rentals, you will want to be sure that you set up an internet access addendum. This type of tenant internet usage agreement will protect you from internet misuse problems and outline the rules for internet access.
Without an addendum, you would not have a way to monitor or control the way that your internet access is being used.
Check out our sample form as well as the additional information we have to offer today for writing your own internet usage agreement for tenants.
A Table Of Contents Internet Usage Addendums
Types Of Internet Access
As a landlord, you may decide that you want to offer some type of internet access to your tenants. Maybe potential renters have been asking about it more and more, and you realize that access to the internet might be a make-or-break-it for many of them.
You are not required to provide internet access, but it is important to some tenants.
Regardless of your reason for wanting to offer internet access, it is important to be aware of the different types of access that you might be able to provide.
Broad Network Internet Access

The first type of internet access that you might consider offering is broad network connections in common spaces and units that are located in a multi-unit building. Rather than offering individual network connections for each unit, this type of broad access can be used by multiple tenants.
This type of internet connection is often used for common areas like washing rooms, meeting rooms, or other lounge spaces that you might have in your multi-unit buildings. Other landlords choose to use this type of internet access as a courtesy, back-up connection for all tenants while expecting many to get their own, unit-specific connection.
This type of network is unlikely to be very fast due to a large number of people who will access it, but the purpose is less about speed and more about availability. Tenants may appreciate the free internet that they can use when needed even if it isn't the highest quality connection.
Unit-Specific Internet Access
You can also choose to set up each individual unit with an ISP and only allow renters in that unit to access. This setup can be arranged in various ways depending on whether you want to include the cost in the rent or have the tenant pay for the connection directly.
Many tenants prefer this type of access because it tends to be faster and more reliable. It is also more secure since the number of people who can access the network is more limited, and the tenant can ensure that their data is safe when using this type of closed connection.
Setting up this type of access can be more costly, and not all tenants will want to use the ISP that you set-up. You will have to decide what to do if the tenant decides to hook up their own service with a different ISP, and that potential should be addressed before signing a lease.
Should You Offer Internet Access?
Landlords are often unsure if they should offer internet access at all. On the one hand, it can be a big draw for potential tenants. On the other hand, many tenants like to do their own ISP selection. Either way, there are pros and cons.
It comes down to your rental goals; will offering internet access help you be a better, more successful landlord?
Use this list of pros and cons to determine that.
Pros Of Offering Internet Access To Tenants
May attract more tenants
Creates a good atmosphere
You can dictate where any necessary cables and lines go
Offering complimentary access in common areas is appealing to tenants
Can be simple to set up in single or live-in units
Cons Of Offering Internet Access To Tenants
Communal networks can have data sharing problems
Need to determine who is paying, if anyone
High up-front investment in multi-unit buildings
ISP selection is a very personal choice for some tenants
Tenants will rely on you to fix internet problems instead of handling them themselves
Important Decisions About Internet Access
In addition to deciding whether or not you want to offer internet access in your units, you will need to decide a number of other factors.
First, you will need to decide what type of internet access to provide. As explained above, you can offer unit-restricted access, or you can offer common network access.
From there, you will need to decide which internet service provider and what type of plan you will want to sign up for. Will you offer an unlimited plan? How fast will the speed be? There are many options at this stage.
Finally, you will need to decide who is going to be responsible for paying for the internet connection. Some landlords provide common network access as part of the benefits of living at their multi-unit buildings, and other landlords include the cost of internet connection in the rent.
This is also something that you can decide on a case-by-case basis depending on the wants of the tenant, but it is good to have your preferred plan and method in mind when going into lease negotiations.
Why Specific Lease Addendums Matter
When setting up a lease and an internet usage addendum for your tenants, you want to make sure that you are incredibly specific at every step. This is a fact about every single type of lease and addendum, but many landlords have forgotten to include important internet usage details. Those mistakes have cost them a lot of money, so be careful to not forget.
In particular, you want to be sure that the following is crystal clear:
Rules for internet access (i.e., any forbidden tasks or sites?)
Cost of internet access (if applicable)
Data caps for internet access
Legal protections (i.e., you won't be held responsible for them pirating)
Our sample form, which you will find in the next section, is just a base form; make sure that you modify it to fit your situation for the best results.
All About The Internet Usage Addendum

The internet access addendum sample that we have for you today is geared towards landlords that are offering access to a communal network, but it can be modified for unit-specific agreements as well.
This is a great sample of a detailed, unit-specific agreement. As you can see, unit-specific agreements require additional information about set-up, costs, and activation.
For now, let's focus on the important parts of the internet access lease addendum and how you can write your own.
Introduction
The first of the addendum is an introduction that clearly states what this agreement is and what it entails. It is important that the introduction mentions that the use of the internet service certifies that the tenant agrees to not only these terms but also the more general Internet Operation Policies, which are likely outlined by the internet service provider.
Identify The Network
The next thing that you will want to include in the addendum is network identification information. Clearly state what network they are allowed to access and where it can be accessed from.
Acceptable Use Rules
The following section should outline what type of internet usage is and is not permitted on the network. For example, you may forbid the uploading or transmission of pornographic materials on a network that you provide.
Our sample addendum includes rules about the following:
Risk liability
Forbids illegal business and pirating
Forbids creation and distribution of pornographic, obscene, or sexually explicit content
Also forbids illegal or destructive content, such as hate speech or viruses
Tenant responsibility to back up their own data
These rules can and should be adjusted to match up with the terms that you have in place. As you are offering a common network, you can make additional rules about its use.
Responsibilities
Finally, you'll want to cover the responsibilities that are expected of the tenant when accessing this internet network.
This section should clarify the following, as well as any other responsibilities that you believe your tenant needs to agree to:
You, the landlord, are not responsible for the tenant's operation or misuse of the internet and resulting damages
You, the landlord, are not responsible for any minors accessing information they should not be able to access, and the responsibility for preventing that access falls to the tenant
The network may be monitored to ensure compliance
Internet rights will be revoked if this addendum is not followed
Finally, each adult tenant and you, the landlord, must sign off on the addendum to officially incorporate it into the overall lease agreement.
Internet: A Wonderful Complication
Choosing to provide some form of internet access to your tenants is both a blessing and a curse. While it may help to keep some potential renters on your side, you may also need to put in additional time to monitor and set up this service.
Still, you can keep this system going smoothly as long as you have a functional internet access lease addendum in place. The addendum helps to ensure that:
The tenant is clear on what is allowed.
The tenant is clear about what they are agreeing to.
The terms are written down so that any disagreements can be settled.
Having a high-quality collection of great lease addendum options will ensure that each rental goes smoothly, so make sure that you file this sample addendum into your collection for future use.