The Ultimate (but fun) Tenant Screening Guide for Landlords.
Tenant screening is kind of like a game of Guess Who.
You remember that board game from the early 90's, right?
We thought a fun video might best explain what we mean.
As, promised you can find the extended blooper footage at the bottom of this post.
Yes, we probably had way too much fun making that video…
… but we did it because we're serious about tenant screening.

In the past 10 years, we have helped 24,511 landlords screen tenant applicants.
This page will share all the tips we've learned along the way.
Proper tenant screening can be broken down into these steps:
You can click any of the bullet points above to be zipped down the page to that specific topic.
You may notice that we've included topics that might seem outside of the typical tenant screening process.
This is because the way you prepare and market your property will impact the type of applicants you get.
Your marketing is a form of a tenant screening as long as you're being compliant… but more on this later.
[activecampaign form=140]

Creating a Tenant Avatar

How do you plan a road trip?
Kind of an obscure question with lots of answers, right?
A good starting place is figuring out where you want to go first and then work backwards.
Miami Beach = Packing swim wear and sunscreen
Aspen = Ski boots and earmuffs
It's obvious that the destination is the most important factor when planning your trip.
When it comes to tenant screening, you need to understand what your ideal tenant looks like first.
Having the ideal tenant in mind will allow you to work backwards through the process.
Here's a video of Steve explaining this concept:
Once you know what your tenant avatar looks like, you can gain clarity for how you will plan the rest of your tenant screening process.
… but first you must understand the laws that regulate landlords.

Understanding Landlord Legalities
If you want to be a successful landlord, you must familiarize and abide by the laws that govern landlords.
Nothing can sink a landlord faster then a discrimination lawsuit, that's why this section of our tenant screening guide might be the most important.
The Fair Housing Act protects people from discrimination when they are renting, buying, or securing financing for any housing.
This list of protected classes includes the following:
Race
Color
National origin
Religion
Sex
Disability
Familial status
This means you need to avoid any discriminatory language in your advertising, screening process, and even casual conversation with prospective tenants.
A seemingly harmless question like asking a prospective tenant if she's pregnant is in direct violation and puts you at risk as a landlord.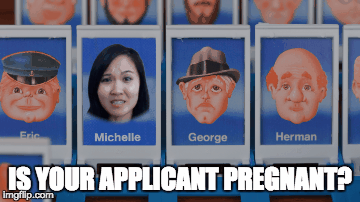 It's not illegal to have a tenant avatar in mind for your rental, but even just implying that you will not rent to any of the protected classes in your advertising and screening process is illegal.
This article from hud.gov goes into further detail on the Fair Housing Act.
Keep in mind that your state or local laws may have additional protections for renters that you should be aware of.
Be sure to read up on your local laws before advertising or screening for tenants.
Most people are not actively trying to be discriminatory, but are simply trying to find the best tenant for their property…
… setting your screening standards can help protect you from a discrimination lawsuit.

Setting Your Standards

You should have a written set of standards (or minimum requirements) for your rental applicants.
You want this written down because it will help guide your decisions…
… but it also will cover you in the case that someone claims discrimination against you.
Four common standards that most landlords adhere to are the following:
#1 Income Should Be Three Times Greater Than The Monthly Rent:

There is no grey area on this one.
If the tenant doesn't make more than 3x the rent, they may have trouble making rent payments over time.
Stick to this rule to save yourself plenty of headaches down the line.
#2 Good References:
Do some detective work on this one.
Most savvy applicants are not going to submit an application with references from a past landlord that they quarreled with.
So, look for time gaps in the landlord references they provide. Is there a two year window with no landlord reference to account for?
This is why when you call previous landlords, you'll want to ask, "How long were they a tenant for?"
Do the landlord references match up with the time frames provided on the application?
A bad reference from a previous landlord shouldn't be taken lightly.
#3 No Evictions:

A tenant eviction is probably the biggest red flag for a landlord.
Here's why…
For a tenant, evictions are kind of like a haunted house.
It's pretty scary the first time through… but the second time, it's a little more predictable and far less scary.
This is why you should be afraid of a tenant with even just one eviction. The fear of the unknown is gone.
They've gotten through an eviction and probably won't be nearly as scared to go through a second or third one.
You should also understand that there is a difference between an "eviction notice" and an "eviction on record."
Let's say Suzy is a tenant applicant and has six eviction notices and zero evictions on record.
Even though Suzy avoided an actual eviction, the eviction notices suggest she was not an ideal tenant.
However, if you run Suzy's info through an instant background check company, you will see zero tenant evictions on your report.
You can't see the eviction notices because instant databases don't report them…
… and it requires a human to cross-reference other databases to find eviction notices.
That's why we employ actual screeners to compile reports at RentPrep; it gives the most comprehensive data on tenant evictions.
#4 Clean Background:
Consider the entire background of the applicant and measure it against your standards.
If you run a background check you're looking at data such as criminal history, sex offender search, and bankruptcies to name a few.
To see a full list of background items to consider click here.
Just be sure to be consistent with your standards and not to make exceptions from one tenant to the next.

Listing Your Rental
There are many things that come into play when listing and preparing your rental property.
This is a good time to reference your tenant avatar.
This persona will help mold your listings.
If your tenant avatar is a studious grad student, then you'll want to highlight the quiet atmosphere of your rental.
If your tenant avatar is a elderly person who may have trouble getting around, highlight the lack of stairs and ease of movement around the apartment.
It is legal to highlight the features of the rental, but it is discrimination to say things like "great for students" or "perfect for couples."
Remember that great photos for your listings are key. In this blog post we cover some tips on how to take great photos of your rentals.
There are many ways to set up your listing, but the easiest way is to get set up with Zillow.
You can use Zillow to create one listing and then syndicate it out to all the major posting sites.
Here's a video we created to show you how to do this (as of November 2016):


Marketing Your Rental

Overall this post is about tenant screening, but it would be a mistake to not talk about how you market your rental.
Keep in mind that the way you market your rental will dictate the type of applicants you get back.
Just sticking a "For Rent" sign in your front yard will get you more interest from people in your neighborhood.
Posting just on Craigslist might get you a different type of applicant compared to posting on Zillow and being in many places.
Using photos vs. photos AND a video will change the experience and get a different applicant response.
For example… if your rental is located close to a hospital and your tenant avatar is a young doctor doing a 2 year residency, you need to tailor your marketing to this avatar.
Consider the following tactics:
Create a relationship with the HR manager at the hospital
Post your rental on their company board in the hospital
Create a video of the rental to use in your listing so out-of-town applicants can get a better feeling for it
Tailor the copy of your rental listing to appeal to a young doctor
Just don't discriminate by saying something like, "Perfect apartment for a young doctor."
You can say that you're located close to that hospital and add features of the apartment that appeal to your avatar though.
Focus on features of your rental, not features of your avatar.
[activecampaign form=140]

Phone Screening

Proper tenant screening isn't just about techniques to find the right applicant.
It's about managing your time and eliminating bad candidates early in the process.
Listing your tenant standards in your marketing will help weed out some bad tenants…
… however, some people will still apply that may not meet your minimum requirements.
You'll want to screen out these applicants on the initial phone call so you don't waste your time showing a rental to someone who doesn't meet your standards.
A nice tip we picked up from Brandon Turner (at Bigger Pockets) is to start the conversation off with an open ended question.
"What can I tell you about the property?"
This stops you from steering the conversation and gives you better insight to the caller.
An immediate question such as, "How much is the security deposit?" may tell you that money is an issue for them.
As the conversation evolves be sure to mention these standards:
Minimum income requirement for this rental is $x,xxx per month
We do a comprehensive background and criminal check
These two statements can save you a lot of time by weeding out bad applicants before you show them the rental.
If your rental is not pet or smoking friendly be sure to include that information as well.

In-Person Screening

When you do a showing of your rental, this is an opportunity to get to know the applicant and do some detective screening.
Here are some items to consider in your in-person screening process:
Did they show up on time?
Are they dressed in a presentable manner?
Walk them to their car and see how they take car of their vehicle
If your applicant doesn't show up on time, why would you expect their rent to be paid on time?
Someone with a car littered with McDonald's bags is probably going to treat your rental unit the same way.
Keep tabs of these little clues to the type of person you're dealing with.
As far as things to consider on your end, Steve lays out three tips in this quick video:

Rental Application Tips
We could go into all the things required on a rental application… but here are the two things you should know.
#1: Use a compliant rental application
If you run a criminal background check, you need to get written consent from the applicant. The same goes for calling references and running a credit check.
We take the guess work out for you by providing a free rental application.
You can download our free application by entering your info below.
#2: No blank spaces
Do not accept any blank spaces on the rental application form.
An applicant who wants to leave blank spaces on your rental app might be trying to hide something.
Even if your applicant claims to have completed each blank, double check and question any inconsistencies.
Select your applicant with confidence; allow our expert screeners here at RentPrep to comb through the application and check the applicant's background to ensure you select the best possible tenant.

Run A Background Check

This is where RentPrep can be of service to you.
The purpose of a tenant background check (sometimes called a tenant screening report) is to allow you to look back into a tenant's past.
The background check will help you make your final decision when you've narrowed down your applicant pool.
Just trusting your gut is not a good strategy for finding the best tenant.
You want to make sure you're considering all the information available to you when assessing a tenant.
Before doing any background checks, make sure you have proper written consent from the tenant to perform these searches.
Our rental application form will make sure you have proper consent and are legally compliant.
A thorough background check breaks into two types of engagements.
Internet Verifications
Phone Verifications
For internet verifications, we access databases and online directories to do the following:
Search Criminal History
SSN Verification
Eviction History
Bankruptcies Search
Judgement & Liens Search
Sex Offender Search
Global Homeland Security Search
Credit Check
We bolded Eviction History as a reminder… if you find an eviction… do not rent to this tenant.
Credit score is one of the more popular screening tools so it's good to know how the average tenant stacks up.

The average tenant credit score is 650. However, we've found that a tenant eviction is a much bigger red flag compared to a lower credit score.
For phone verifications, you will need to call the current employer and past landlord(s):
Verify Current Residence
Verify Previous Residence
Verify Employment Status and Income (if employer will provide)
You'll notice we didn't have personal references on here.
That's because personal references will always give a glowing review and that's why we don't take them into consideration.
If you don't want to call previous landlords and their employer we can make those calls for you. Just check out the Platinum package.

Verify Applicant Details
Once you have all of your tenant background information, you'll want to verify the details they provided you.
Does the applicant matchup with what they claimed to be on paper?
At this point, you should be able to narrow your selection down to the tenant of your choice.
Factor in all of the things you've learned and check your tenant applicant pool against your tenant standards.

Selecting Your Tenant
You'll want to reach out to the tenant you choose and let them know they've been selected to rent the apartment.
It's a good move to do this before denying any other tenants… just in case your ideal tenant has found another living situation.
You'll want to have the tenant sign a rental lease with you as you meet and go over the rental agreement.
You can click this link to automatically download a rental lease.
At this point, there is a shift in the relationship from prospective tenant to actual tenant.
This is a great time to be clear about things moving forward such as preferred communication styles and how to submit repair requests.
Good communication with your new tenant will go a long way towards creating a good relationship.

Legally Denying Tenant Applicants
You are legally obligated to provide written notification to anyone you deny tenancy to.
This includes anyone who filled out an application form.
The letter you provide them is called an adverse action letter. If you need a copy, it is included in our Landlord Form Bundle.
We suggest sticking with a generic form that doesn't get into the weeds of why you denied the tenant.
However, if the applicant requests a copy of their background check, you're legally obligated to provide that to them.

Blooper Footage:
If you read through all of these steps, you're ready to rent. The process doesn't have to be scary.
If you need a break before finding the perfect tenant, feel free to laugh at/with us by watching our bloopers below.


Closing thoughts:
Yes, we like to have fun here at RentPrep, but we're serious when it comes to tenant screening.
We truly believe that RentPrep provides the most thorough and accurate background screening reports available.
Try our service out by signing up for a free account today.