As the center of culture, business and recreation for the Pacific Northwest, Seattle is attracting newcomers from across the United States. With many people looking for rental properties in Seattle, landlords have lots of laws and regulations to follow when it comes to picking who they want to live in their units.
Of course, Seattle landlords want the best tenants, which means those that pay rent on time and take good care of the rental property. When landlords follow Seattle tenant screening laws, they will most likely find those great tenants.
In this article, landlords in Seattle will learn about:
Seattle tenant screening laws
Where to find free landlord resources
Screening process overview
Finding a good tenant screening service
Tenant Screening Seattle Laws
Often, urban centers enact tenant and landlord laws that are more strict than federal or state laws.  Urban populations with a lot of rental units often need more significant regulations, and Seattle is no different. Of course, the Seattle tenant screening laws are in place to protect the process for both landlords and tenants.
Here are just a few Seattle screening laws:
Landlords may only collect the amount that equals the cost of the background check for an application fee.
Applicants must get a copy of the background check to confirm the fee.
Landlords must provide applicants with a written list of their minimum screening criteria before or while giving them an application form.
When landlords in Seattle receive a completed application, they must note the date and time it was received.
Every Seattle landlord must follow the city's laws about first-come, first-served rental law where they must rent to the first fully qualified applicant.
Seattle landlords always need to be up to speed on their city's tenant screening laws to stay out of legal trouble.
This Common Screening Mistake Can Cause Trouble
Getting all the applicant's information for a background check can come to a screeching halt if landlords forget one very important component–a signature from the applicant giving consent. In other words, a Seattle landlord must have the applicant's signature on file or they cannot run a background check. Most applications can be modified electronically to include a signature line if they don't already have a place for it.
Here's a RentPrep form that demonstrates this: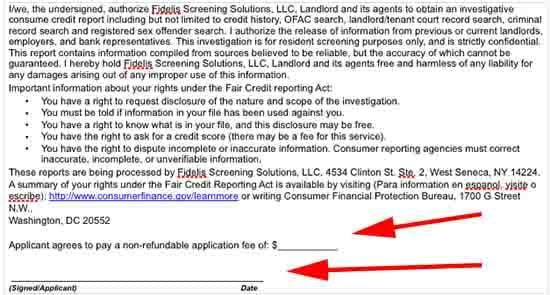 Note how the top red arrow points out the non-refundable application fee. That bottom red arrow indicates the signature line that gives consent to a background check.
Resources for Tenant Screening in Seattle
RentPrep has gathered a helpful list of links for you to use in your real estate business. There's no better way to find top tenants than to use the information here.
*More and more Seattle landlords are going with a no blank space policy when reviewing applications. This means that any applications with blank answers will be denied. After all, it's impossible to conduct a true background check without actual answers on an application.
Seattle Tenant Screening Process
Seattle landlords are legally bound to create a comprehensive tenant screening criteria list to give to applicants at the beginning of the process. It must be done before accepting the applicant's material. This tenant screening list should includes all the desired features in their ideal tenant. Landlords should create a list that is fair but not exclusive.
Here's an example of a Seattle tenant screening list:
No smoking
Income to rent ratio at least 3:1
No prior evictions
Allow a single pet under 15 lbs with copy of vaccinations/vet records
No violent criminal history
Allow bankruptcies older than 7 years
Employed at current job for at least 3 months
Seattle landlords definitely have some control on the type of tenant they want to rent to. However, Seattle's unique first-come, first-served law means that landlords have to screen applicants in the order the papers are received. Of course, landlords cannot discriminate against protected classes and the penalties for this are very serious. Landlords can find out more about Seattle fair housing here, and they can visit the hud.gov website as well.
Remember, Seattle tenant screening laws include:
Application fees cannot exceed the cost of the background check.
Landlords must provide applicants with a list of screening criteria before they apply.
Screening takes place in the order the applications are received.
The first qualified applicant must be offered the lease agreement, per municipal law.
Seattle landlords are never to discriminate against protected classes during the screening process.
With all these details, Seattle landlords must be well-educated on their city's tenant screening laws.
[activecampaign form=140]
Check Out Your Washington Screening Guide
In many cases cities have their own screening rules and regulations while the state has another set of rules that govern the screening process.
Click here to go to our post on "Ohio Tenant Screening Process."
Finding the Right Tenant Screening Services
Once Columbus landlords have a qualified application, they must submit it to a tenant screening service to do the background check. An excellent tenant screening services will be able to provide a detailed report for a moderate fee.
The best tenant screening services provide info on:
Previous evictions
Any bankruptcies
Every judgment and lien
Past addresses
Based on the results of the background check, the Seattle landlords should offer the lease if they qualify. If not, the landlord moves to the next applicant that qualifies. A professionally done background check can help them get a great tenant in place.
At RentPrep, we have experience with over 21,000 landlords over the past 10 years. Check out our tenant screening packages to see the services we offer.
Our FCRA certified screeners will put your mind at ease by providing the best tenant screening report available.