As one of the busiest West Coast port cities, Oakland is enjoying plenty of economic success. New jobs and top cultural and entertainment events are bringing people from across the country to Oakland. Of course, rental properties in this area are in high demand, so landlords that own property in Oakland are always looking for the best tenants. To avoid all those bad tenants and attract the best tenants in the city, landlords should focus on following Oakland tenant screening laws.
Here, Oakland landlords will find out about:
Oakland tenant screening laws
Where to find  free resources for landlords
Understand the tenant screening process
Find the best tenant screening services
Tenant Screening Oakland Laws
Oakland landlords must learn about the different laws that govern their rental properties. Not only do they need to pay attention to federal and state laws, but municipal ones as well. Tenant screening laws put rules in place to keep everything fair and legal for both landlords and applicants. Landlords in Oakland have to find the best possible tenant to make their real estate business work, and tenant screening is the way to do that.
Here are just a few Oakland tenant screening laws:
Landlords can't charge more than the state's annual rate for application fees. may charge for application fees.
All application fees in Oakland are not refundable.
In Oakland, security deposits and application fees are separated transactions.
Oakland tenant screening laws are explained in detail here.
Avoid This Common Screening Mistake
Many Oakland-area landlords need to make changes to the application form they use. Why? Because too many of the application forms don't include the key thing that landlords need to run a background check. An Oakland landlord cannot run a background check on an applicant unless they have a signature of consent. Any application form that doesn't have the signature line must be modified to include one.
Here's how we do it at RentPrep: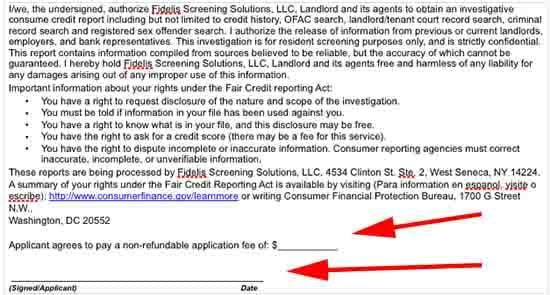 Look at the top red arrow and note that it points out information about the non-refundable application fee. Now look at the bottom red arrow and see that it points out the signature line on the application.
Resources for Tenant Screening in Oakland
RentPrep has gathered a helpful list of links for you to use in your real estate business. There's no better way to find top tenants than to use the information here.
*Many landlords across the country have a no blank space policy in place for when they look at applications. A no blank space policy means that any applications that are submitted but are incomplete are denied automatically. If applicants leave blanks spaces instead of answers, it is difficult to do a complete background check on them.
Oakland Tenant Screening Process
Many landlords in the city of Oakland use a tenant screening criteria list to help them stay fair and consistent when evaluating applications. An Oakland tenant screening criteria list simply means that landlords write down all the qualities they want to see in an ideal tenant. Then as they get they compare the applications to the list.
Here's an example of a possible Oakland tenant screening criteria list:
No evictions
Smoking is allowed
Credit score above 580
Income to rent ratio 3:1
No criminal history
Proof of current renters insurance
No pets
No bankruptcies newer than 7 years
Oakland landlords can compare an application to their tenant screening criteria list and keep the review process fair and legal. Of course, no landlord can discriminate against protected classes. There are multiple groups that are protected by federal, state and municipal laws. Landlords can check out this website to get more information about Oakland. Landlords can reference federal housing discrimination issues at the hud.gov website.
More about Oakland tenant screening laws:
Landlords can't charge more than what the state allows for an application fee.
Tenant screening cannot include protected classes under federal, state and municipal laws.
Oakland landlords can deny applications that don't meet their personal screening criteria.
Oakland landlords can learn more at this website.
Check Out Your California Screening Guide
In many cases cities have their own screening rules and regulations while the state has another set of rules that govern the screening process.
Click here to go to our post on "California Tenant Screening Process."
Click here to learn the ins and outs of tenant screening. A custom guide to show you exactly how to screen tenants.
[activecampaign form=140]
Locating the Best Tenant Screening Services
At last, Oakland landlords are at the point where they can run a background check. They need to locate a professional tenant screening service that will do a complete screening. The best services provide an in-depth report for a reasonable cost.
Oakland landlords should get a report with information on:
Previous addresses
Evictions
Judgments and liens
Bankruptcies
Once this final step in the Oakland tenant screening process is complete, landlords can feel confident in offering a lease agreement to the best applicant.
At RentPrep, we have experience with over 21,000 landlords over the past 10 years. Check out our tenant screening packages to see the services we offer.
Our FCRA certified screeners will put your mind at ease by providing the best tenant screening report available.