Nashville is the heart of culture and economics for the region, plus its a big tourist destination as well.  The rental market in Nashville is hot right now, so landlords should have no problems finding applicants. It is nearly impossible to discern who will be an excellent tenant without following the Nashville tenant screening process.
Landlords can use this post to learn more about:
Nashville tenant screening laws
Free landlord resources
Application screening process overview
Finding tenant screening services
Tenant Screening Nashville Laws
It's true that Nashville tenant screening laws are different than more rural areas because of its urban population. Often, metro cities include rental regulations that go beyond state law. To keep the process fair and balanced, Nashville tenant screening laws have been put in place.
Here are a few of Nashville's tenant screening laws:
The city doesn't limit the amount that landlords can charge as an application fee.
Application fees in Nashville are non-refundable.
Nashville security deposits and application fees are separate transactions.
To succeed in the real estate business, Nashville landlords need to comprehend and practice their city's tenant screening laws.
Don't Make This Common Screening Mistake
Far too many Nashville landlords make one common screening mistake, and that is not getting a signature from the applicant. To run any kind of background check, a landlord needs consent. If a Nashville landlord doesn't get each applicant's signature on the application, they won't be able to run a background check. If the current application form doesn't have a place for a signature, one should be added immediately.
This RentPrep form shows one way to do this: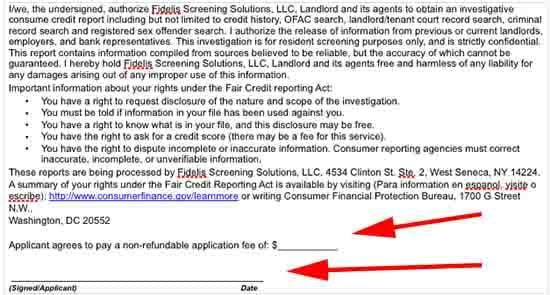 Top arrow:  Non-refundable application fee
Bottom arrow: Signature for a background check.
Resources for Tenant Screening in Nashville
RentPrep has gathered a helpful list of links for you to use in your real estate business. There's no better way to find top tenants than to use the information here.
*Many landlords use a no blank space policy, where they deny applications automatically if any questions are left blank. When questions are unanswered it is impossible to process them further. Sorting through applications this way weeds out ones that aren't viable.
Nashville Tenant Screening Process
Many Nashville landlords use a tenant screening criteria list to ensure the applications match their rental standards. They write up a list of the features they most want to see in a renter, and then compare. The criteria should provide some standards but not so strict that they become unrealistic. Landlords in Nashville should have a good idea about the type or renters that would be looking at their rental property.
A Nashville tenant screening list might look like this:
No smoking
Zero evictions
No more than one dog under 35 lbs
Bankruptcy older than 7 years allowed
Income to rent ratio at least 3:1
No criminal history
Nashville landlords can shape the list however they choose. However, they cannot include discriminating features against any protected classes. Certain groups fall under state, federal and municipal protected classes and it is illegal to discriminate against them when it comes to applications and rentals. Learn more about fair housing laws in Nashville here and visit the hud.gov website for federal standards.
Remember that Nashville's tenant screening laws include:
Landlords have no limit on how much they may charge for application fees.
Nashville landlords can write up a tenant screening list and deny applications that don't meet the criteria.
Discrimination is illegal and landlords must never do so to protected classes.
Nashville landlords must abide by the city's tenant screening laws or face legal repercussions.
Check Out Your Tennessee Screening Guide
In many cases cities have their own screening rules and regulations while the state has another set of rules that govern the screening process.
Click here to go to our post on the "Tennessee Tenant Screening Process."
[activecampaign form=140]
What About Tenant Screening Services?
Using the services of a professional tenant screening service is the smart move when it comes to background checks on applicants. For a modest fee, the best tenant screening service dig deep into each applicant's background to create a comprehensive reports.
A true tenant screening report should include information on:
Past evictions
Any bankruptcies
All judgments or liens
Previous addresses
When the background check is completed on an applicant, Nashville landlords can make a final decision on whether they want to rent the unit to them. A real background check is a much better indication of what kind of tenant they will be, instead of a gut feeling.
At RentPrep, we have experience with over 21,000 landlords over the past 10 years. Check out our tenant screening packages to see the services we offer.
Our FCRA certified screeners will put your mind at ease by providing the best tenant screening report available.