The city of Detroit is home to many hardworking people and a large percentage of the population rents their homes. Landlords that own rental properties in the city are going to be stuck with bad tenants unless they pay attention to the Detroit tenant screening laws in place. To find only the best applicants, landlords need to put in a little work up front. Only then are they rewarded with great tenants that treat the property well and pay rent on time.
This post will share more about the Detroit tenant screening process:
Detroit tenant screening laws
List of free landlord resources
Tips and tricks to screening your tenants
Overview of the screening processes
Finding the best tenant screening services
Tenant Screening Detroit Laws
Landlords should know that they are subject to all the federal and state laws that regulate housing, but often many big cities have additional regulations they must abide by. Detroit landlords will be doing themselves a favor by looking into Detroit tenant screening laws.
Detroit tenant screening laws include:
There are no limits placed on the amount of application fees landlords can collect
Detroit rental application fees are not refundable
Throughout the state, all application fees are separate transactions from security deposits
Detroit tenant screening laws are in place to protect both landlords and applicants. Landlords can take these steps to avoid   bad tenants and lose both time and money.
Avoid This One Common Screening Mistake
Way too many Detroit landlords overlook one of the most important things they need to run a background check on an applicant–their signature of consent. Without it, landlords are limited in whether or not they are allowed by law to run background checks at all.  Unless landlords have a signature from the applicant, they cannot run a background check. If the current application papers don't include a place to sign, they need to change that right away.
Here's a RentPrep form that shows a few key features: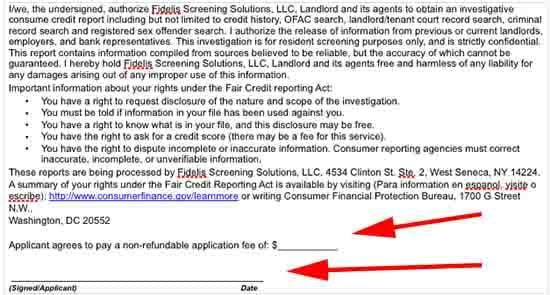 See the top arrow? It points to the statement about the nonrefundable application fee information. Now look at the bottom arrow. It's showing the signature line where applicants give permissions for background checks.
Resources for Tenant Screening in Phoenix
RentPrep has gathered a helpful list of links for you to use in your real estate business. There's no better way to find top tenants than to use the information here.
*Many landlords use a no blank space policy, which allows them to deny applications that are not complete. In other words, an application with a blank space instead of an answer is no longer under consideration. Only completed applications will be processed.
Detroit Tenant Screening Process
The easiest and most consistent way to sort out all the applications for a vacancy is for landlords to create a tenant screening criteria list. It's a list of qualities and factors that landlords create that highlight what they want in their dream tenant. These qualities should be realistic and reflect the top end of the types of applicants that would qualify for the rental property.
This is just an example of a Detroit tenant screening criteria list:
Zero prior evictions
No smoking
No pets
A 580 or above credit score
No violent criminal background
Bankruptcy OK if more than 3 years ago
Income to rent ration must be 2:1
A tenant screening list will help landlords sort through applications and prioritize them. Then, they will be able to take the top two or three to the next level. Detroit landlords must abide by all the anti-discrimination laws at the federal, state and local levels. It's illegal to discriminate against a person that is part of a protected class and Detroit laws reflect that. Landlords in the city that have questions should consult this website or go to the hud.gov website.
Remember some of these Detroit tenant screening laws:
Zero limits on the amount that landlords can charge as application fees
Detroit landlords can deny all applications that don't meet their tenant screening list criteria
Discrimination against protected classes is illegal
Landlords can check out this Detroit website to keep up on what's happening in their city.
Check Out Your Michigan Screening Guide
In many cases cities have their own screening rules and regulations while the state has another set of rules that govern the screening process.
Click here to go to our post on "Michigan Tenant Screening Process."
[activecampaign form=140]
Finding the Best Tenant Screening Services
Detroit landlords are almost finished with the tenant screening process when they need to find a tenant screening service. A thorough background check on applicants is the best way to identify those that will make ideal tenants. A full background check should be done by experts in a short time for a modest fee.
The tenant screening company needs to provide landlords with info on:
All previous addresses
Any evictions
Every judgment and lien
Past bankruptcies
Landlords that follow the steps in the Detroit tenant screening process are  going to love the results because they are eliminating applicants with bad news and getting the best ones to the final stages.
At RentPrep, we have experience with over 21,000 landlords over the past 10 years. Check out our tenant screening packages to see the services we offer.
Our FCRA certified screeners will put your mind at ease by providing the best tenant screening report available.