By law, you must have a tenant background check form signed by the applicant before doing any kind of background check.
You can click the link below to download our free tenant background check form.
This will provide written consent from the tenant to do a background search which includes permission to run a credit and criminal search.
Your Free Tenant Background Check Form
Sometimes this signed consent is already included on your rental application as well.
You can see this information in the image below which is on the 2nd page of our rental applications.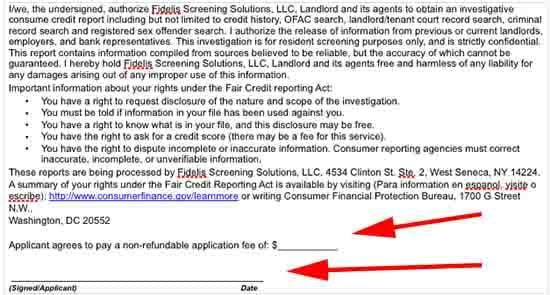 A signed rental application (with consent) is even better than a tenant background check form because you get additional information from the tenant.
Don't Pay For The Tenant Background Check

Notice the first arrow highlights a rental application fee which will cover the cost of your background check.
Many landlords are hesitant to charge an application fee, but typically it will only discourage bad tenant applicants from applying.
On our rental application form you can enter an application fee to cover your background check costs. Typical charges are around $25 – $35 per applicant.
[activecampaign form=140]
Save Money on Your Tenant Background Check
Here at RentPrep we have done background checks for over 21,000 landlords over the past 10 years.
You can see our pricing on our packages and pricing page.
We offer a promo code "NEW10" to all new signups to save on your first background check.
Just enter the promo code at checkout after signing up for a new account.
One of the things you'll notice that is different about our service is that we're very easy to get ahold of.
We have FCRA certified screeners in the office 6-7 days a week to answer calls and run your background check.
Here's a video from our CEO Steve White explaining how we got our start and why we're "faithful" to our clients.